October 16, 2018
Stocks are Ready for a Reboot and Nowhere Near a Bear Market, Says this Trader
After a period of mostly downbeat action, a risk-on mood has taken shape Tuesday, after Goldman and other big corporate names sprinkled around some earnings cheer.
Some investors may still be rattled by last week's mini meltdown. Perhaps in a bid to calm any uneasy future retirees, Charles Schwab SCHW has been steering clients to a chart from earlier in the year, which shows how three types of investors fared during the past four decades of investing.
There is the stalwart, who stayed the course on his investments no matter what; the reactor who pulled out money in 2008 and stayed out (depicted in red) and the waffler (blue), who moved money out after any downbeat year. The latter two kept saving 10% of their salary. Guess who came out ahead? Yep, the stalwart: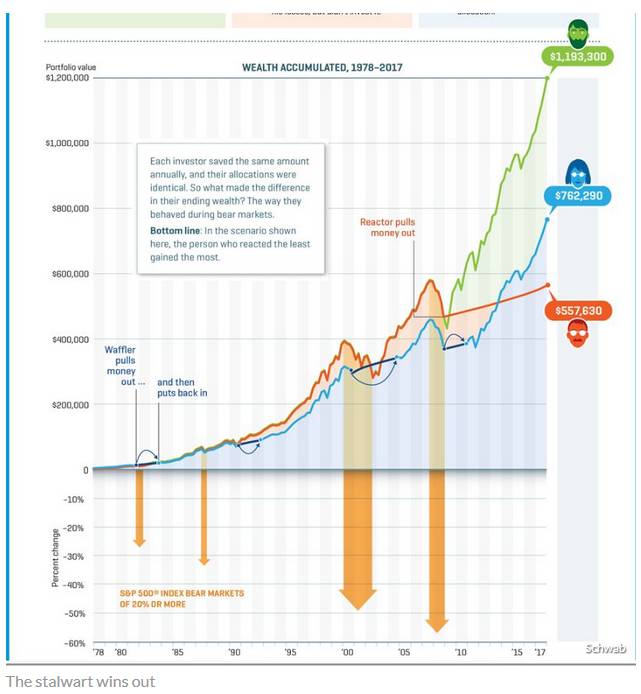 More of that keep-calm-and-invest-on advice comes from our call of the day, provided by Urban Carmel, the writer behind the Fat Pitch blog and ex-president of UBS Securities in Asia.
"This might feel like the start of a bear market, but that is the least likely outcome," says Carmel, who suggests investors get ready for higher prices in the weeks and months ahead.
Supporting that perspective, he points to a still-robust U.S. economic expansion and macroeconomic data that have historically weakened before a final equity top, contrary to what many investors might think. Based on that, he doesn't believe that the stock market will hit a peak (implying a pronounced downturn is imminent) before the end of 2018.
Carmel backs up his view by pointing to momentum in the S&P 500, breadth and sentiment washing out, the latter of which has seen investors flooding into ETFs that bet on equity falls. He says this chart from Dana Lyons at J. Lyons Fund Management as evidence of that: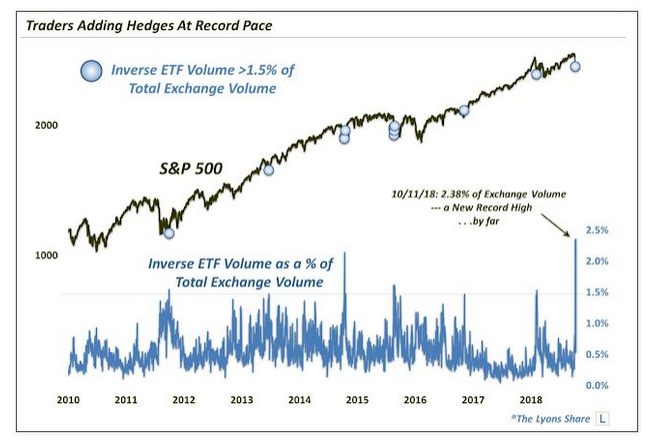 Still, Carmel says investors should stay alert as the recent selloff hasn't entirely run its course.
Although, he believes that stocks are set to rise, a "topping pattern" under way for the S&P 500, in which prices weaken before they reverse, is one piece of evidence that Carmel references to support his call for near-term caution. That the broad-market index has just logged a three straight weeks of declines—something that has happened 20 times since 2003—also underscores the market's fragility, he said. As the following chart shows, in past times that the S&P 500 suffered such a losing streak, the low was eventually retested within the following seven weeks: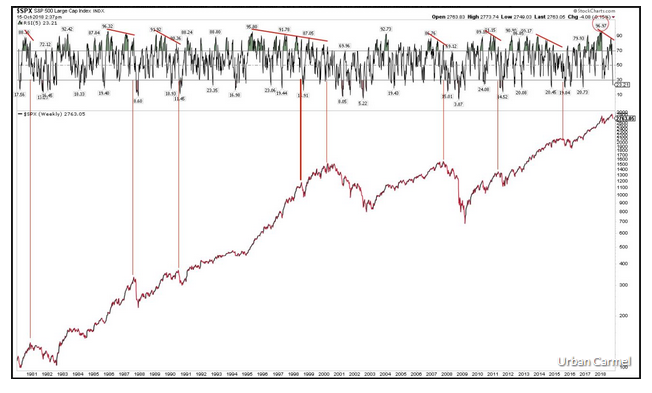 Back in May, he was cautioning against seasonal selling, warning that investors could be buying back at higher prices in November. That's a call that proved to be spot on, with the S&P 500 up by about 4.6% since that point.
The market
A hefty rally is underway, with the Nasdaq COMP, S&P SPX, and Dow DJIA well in the black.
Gold US:GCU8 is up a little, while crude US:CLU8 is off and the dollar DXY has dropped against the euro EURUSD and the pound GBPUSD.
Check out the Market Snapshot column for the latest action.
Europe SXXP is moving higher and Asian markets ADOW had a mixed session.
The chart
Our chart of the day comes from the latest Bank of America Merrill Lynch fund manager survey (from Oct. 5 to 11), which shows that global growth expectations among money managers has slumped to the lowest levels since November of 2008.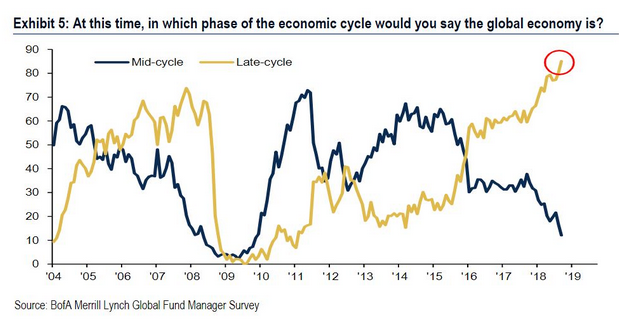 Now, how can growth optimism be so gloomy when the U.S. is on a boom? As BAML analysts explain, the Fed is causing some hopes over U.S. growth to "wane."
The buzz
Walmart WMT is dipping after cutting its 2019 adjusted earnings outlook. But Goldman Sachs GS and Morgan Stanley MS, after both banks topped estimates, Domino's Pizza DPZ, is down after a revenue miss. UnitedHealth UNH, BlackRock BLK, Johnson & Johnson JNJ results are all rolling in this morning, with Netflix NFLX due after the close.
Adobe ADBE,  is up after reaffirming profit targets.
U.S. Sec. of State Mike Pompeo has just arrived in Riyadh to discuss the disappearance of missing dissident journalist Jamal Khashoggi. Some suspect the Saudis will say Khashoggi died of an interrogation that went badly wrong, or "rogue killers," as suggested by POTUS on Monday.
Tossing shade at big tech rivals, Amazon.com AMZN CEO Jeff Bezos told a Wired audience that he's not going to turn down working with the Pentagon. At the same conference, Twitter CEO Jack Dorsey said his company needs to work on filter bubbles, and Google's GOOGL chief executive Sundar Pichai defended his company's plan to explore a search engine tailored for users in China.
Microsoft MSFT co-founder Paul Allen is dead at 65 after battling cancer a second time.
Industrial production, job openings and a home builders' index are all on tap this morning on the data front.
Everything you've ever wanted to know, (but were afraid to ask) about investing in pot stocks. Heard of Canopy Growth WEED? It is the industry's $4 billion gorilla. Plus, Tilray's TLRY global ambitions and red flags around IGC.
Article and media were originally published by Barbara Kollmeyer at marketwatch.com