September 7, 2018
Should Stock-Market Investors Start to Worry about the Tech Wreck?
A rout in the technology and internet sector is putting the Nasdaq Composite Index on the brink of registering its worst week in more than five months.
The tech-laden Nasdaq COMP is set to decline 2.5% for the Labor Day-abbreviated week, which would represent its steepest weekly drop since March 23 when the index plunged 6.5%, according to FactSet data. An index of the largest companies by market value, the Nasdaq-100 Index NDX also is set to suffer its worst weekly slide, down 2.9%, since late March.
The tech-related tantrum comes not long after the Nasdaq touched a record well above the psychologically important round-number mark at 8,000 on Aug. 29, and has raised some questions about the ability of the broader market, which has been mostly fueled by gains in the sector, to achieve new heights.
Wednesday's decline was primarily fueled by souring sentiment on the social-media names, Twitter Inc. TWTR Chief Executive Jack Dorsey and Facebook Inc. FB Chief Operating Officer Sheryl Sandberg attempted to defend their efforts to prevent outside manipulation of their social-media platforms by Russian and other foreign actors, highlighted by fake accounts during the 2016 presidential election.
On Thursday, tech took a further leg lower, spurred by selling in chip-related stocks following weak outlooks from chip makers. The chief financial officer of KLA-Tencor Corp. KLAC offered a weaker-than-expected outlook for chip shipments at the Citi Global Technology Conference, which helped to send the broader sector spinning lower. A popular way to bet on the semiconductor sector, iShares PHLX Semiconductor ETF SOXX traded 2.5% lower on Thursday and shares of a key component of that exchange-traded fund, Micron Technology Inc. MU sagged by 9%.
So, does this all add up to an unraveling of tech names that helped drive the S&P 500 index SPX and the Nasdaq to new heights about a week ago?
A number of market analysts say the tech uptrend remains intact:
"I don't think the uptrend is broken whatsoever," said Art Hogan, chief market strategist at B. Riley FBR Inc. "But I do think that it is a healthy reminder that momentum runs both ways," he said, referring to the investment strategy of buying stocks that have recently risen on the expectation that they will continue their trend over the medium term
He noted that shares of those companies are hitting lofty valuations and tend to be high-beta, or volatile, stocks.
There is further support to the idea that the rally remains in place. Neither the Nasdaq Composite nor the Nasdaq-100 have broken through their short-term moving averages, which market technicians tend to use as evidence of an assets bullish or bearish trend. The Nasdaq is holding about 1.5% above its 50-day moving average at 7,817.84, while the Nasdaq-100 is about 1.3% clear of its short-term trend line.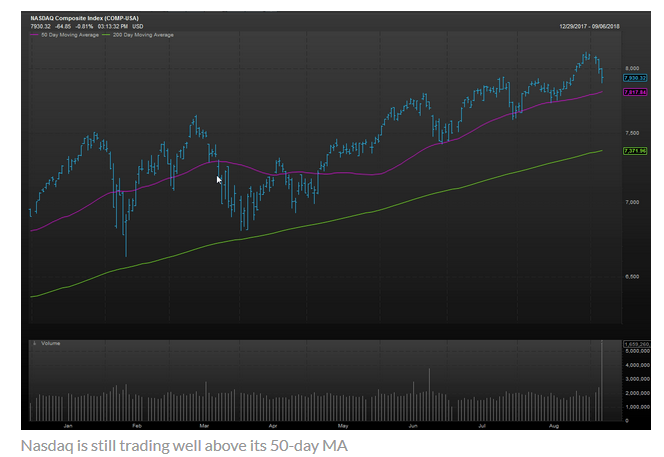 Hogan also said the U.S.-China trade spat could also be providing fodder for those unloading tech stocks due to potential implications for the tech sector.
Some market participants have pointed to the fact that the performance of the Nasdaq-100 index — representing the Nasdaq's most highly valued companies — hasn't coincided with records for the broader Nasdaq Composite. Bob Bronson, principal at Bronson Capital Markets Research said a measure of strength of the two index shows the pair of tech-centered gauge's peaking about a month ago (see chart below).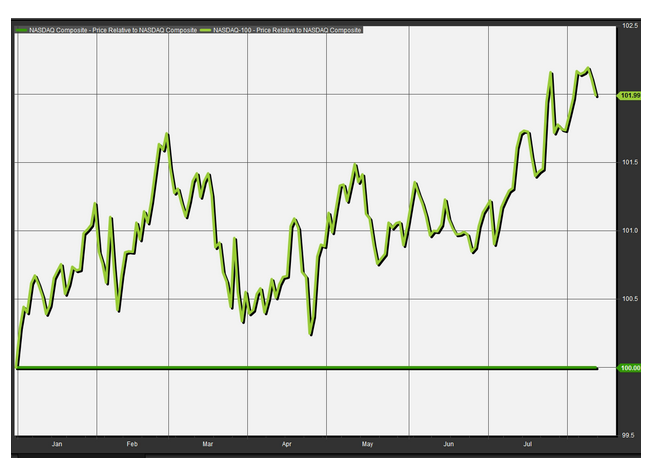 "This internal weakness of failing rotation strongly suggests a worse decline than what followed the first of the double-tops seven months ago," Bronson told MarketWatch on Wednesday.
Speaking to MarketWatch, Frank Cappelleri, executive director of equity sales and trading at Instinet, said he would require more evidence of deterioration in the 12-year long uptrend in the Nasdaq to be concerned.
"I can see how one would call this extended. However, we also need to realize that this uptrend has been intact since the middle of 2006," he said (see chart below which offers a longer-term look at the relative strength of the Nasdaq against the Nasdaq-100):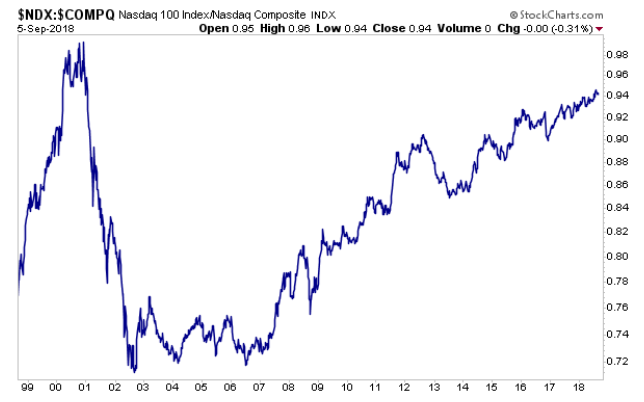 "The Nasdaq can rally on all sorts of exuberance," Hogan said, "but whether that's irrational or not is anyone's guess, but I just don't see it now."
Article and nedia were originally published by Mark DeCambre at marketwatch.com