May 12, 2017
Retail Sales Strengthen in April, Brightening Economic Outlook
Sales at U.S. retailers rose in April, and March sales were stronger than originally estimated, painting a stronger picture of American consumers than previously reported.
Retail sales increased 0.4%, the Commerce Department said Friday, and were 4.5% higher compared to a year ago. A 0.2% monthly decline for March was revised up to show a 0.1% increase.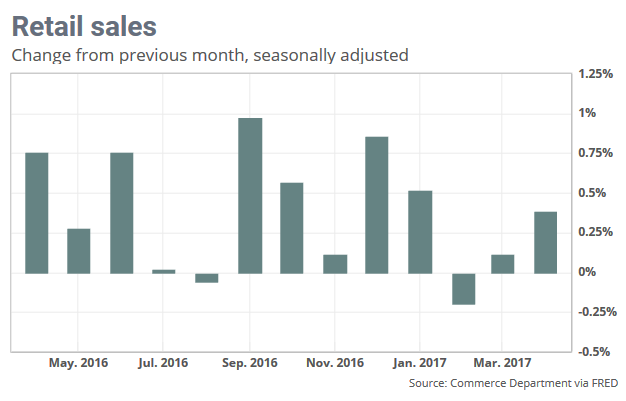 Sales have risen in three of the first four months of 2017. Stronger March data than originally reported may help boost U.S. GDP, which showed a 0.7% pace of growth in the government's first estimate.
With motor vehicles and gas stripped out, sales were up 0.3%, after a 0.4% increase in March.
Sales at gasoline stations were 12.3% higher in April than a year ago, as the cost of oil strengthened.
Economists surveyed by MarketWatch had forecast a 0.5% increase during the month.
Brick and mortar retailers including Sears SHLD and Macy's M have struggled to find a foothold as consumers shift shopping patterns online. For the first four months of the year, online retail sales were 10.7% higher than during the same period last year, while sales at department stores were 5.2% lower. Online retail sales were up 1.4% during the month.
But monthly spending patterns were mixed. Sales at furniture and home furnishings stores dipped 0.5%, while building materials and garden equipment sales rose 1.2%. Food and beverage store sales were down 0.3%. Health and personal care store sales increased 0.8%.
Article and media originally published by Greg Robb and Andrea Riquier at marketwatch.com