June 23, 2017
New-Home Sales Roar Back in May after April Showers
Sales of newly-constructed homes rebounded in May, and government data was revised to show a stronger spring selling season than had been previously reported, another sign that the housing market remains on firm footing.
New-home sales ran at a seasonally adjusted annual rate of 610,000, the Commerce Department said Friday. That was 2.9% higher than in April and 8.9% higher than a year ago.
It was the second-highest monthly tally of 2017 and easily beat forecasts of a 590,000 pace, which was the consensus among economists surveyed by MarketWatch.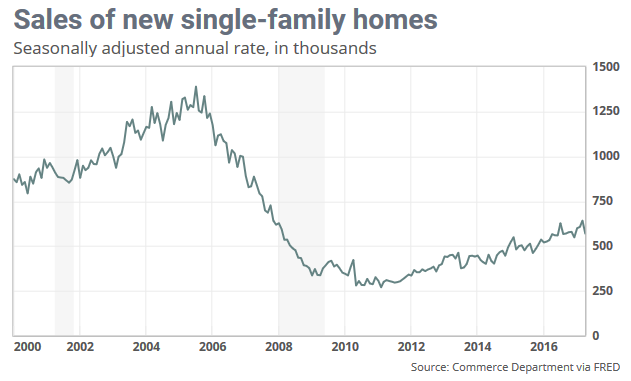 So far in 2017, 271,000 new homes have been sold, which is 12% higher than during the same period last year.
The median sales price in May was $345,800, up from $310,200 in April and $296,000 in May 2016. At the current pace of sales, it would take 4.6 months to exhaust available supply in May, the same as in April.
The government's new-home sales data releases, which are based on small samples, are often heavily revised.
 Still, the housing market seems to have legs. Demand is robust, and is being bolstered by mortgage rates that are staying lower than most analysts expected.
Big builders like Lennar LEN have recently reported earnings that beat expectations.
Article and media originally published by Andrea Riquier at marketwatch.com