May 31, 2016
Market Recap May 27, 2016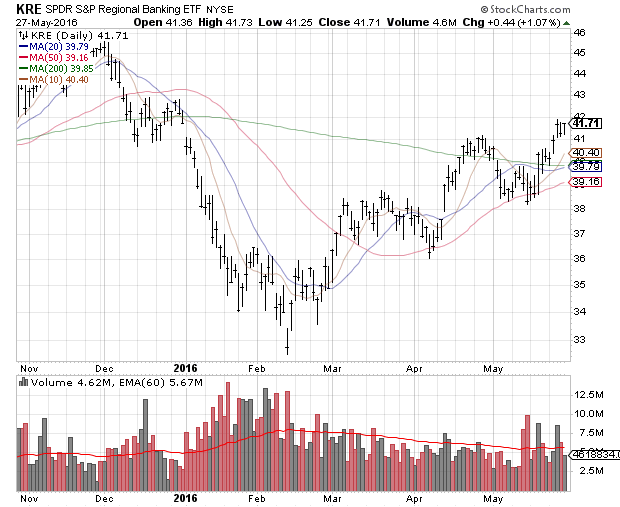 Another solid day for the bulls as we had yet another pop at the open and then another round of buying into the close.  The S&P 500 gained 0.43% and the NASDAQ 0.65%.  This despite some mildly (not overly) hawkish comments from Janet Yellen.  "It's appropriate for the Fed to gradually and cautiously increase our overnight interest rate over time," Yellen said at a high-profile visit to Harvard University on Friday. That means a move could be appropriate in coming months, she said.
U.S. first-quarter economic growth was revised up to 0.8% from a previous reading of 0.5%, based on a fresh estimate that shows somewhat stronger home construction and restocking of warehouse shelves.
"I think if you look at the equity market and you look at Treasurys I think investors have upgraded their view of the economy a little bit. … You haven't really seen that get translated into the Fed raising rates," said John Bredemus, vice president at Allianz Investment Management. He noted while expectations for a rate rise have risen, the Fed is likely "not going to do much."

"Yellen basically cemented what other Fed speakers had been saying over the past week and I am a little surprised how well the market has absorbed the news," said Michael Antonelli, equity sales trader at Robert W. Baird & Co.
It is now a fair time to get out of the bunkers – the S&P 500 and Russell 2000 cleared resistance earlier this week, and Friday the NASDAQ joined the party.
The NYSE McClellan Oscillator has now been positive 3 sessions in a row.
Financials had a strong week.
Good news in brick & mortar retail?  Miracles do happen.  Ulta Salon Cosmetics & Fragrance (ULTA) jumped 9.1% after earnings from the makeup retailer released late Thursday topped Wall Street estimates.  This chart was actually very nice for a retail stock even before the earnings announcement.
The "low end" of retail continues to do well – as we saw earlier in the week.  Big Lots (BIG) rallied 14% after the discount retailer boosted its outlook for the year and reported a 20% rise in profit.
Still the sector was not perfect – GameStop (GME)  slumped 3.9% after the videogame retailer late Thursday reported an 11% drop in earnings.
Originally published by Mark Hanna at StockTrader.com.