The report showed India's competitiveness improved the fastest in 2015-16, jumping 16 places to rank 39th among 138 countries on the index, with the "stellar areas of improvement" being public institutions and increasing transparency in the financial system."India's competitiveness has improved across the board, in particular in goods market efficiency, business sophistication, and innovation. Thanks to improved monetary and fiscal policies, as well as lower oil prices, the Indian economy has stabilised and now boasts the highest growth among G20 countries," Global Competitiveness Report 2016 noted.
The report was released ahead of the India Economic Summit scheduled in New Delhi on October 6 and 7.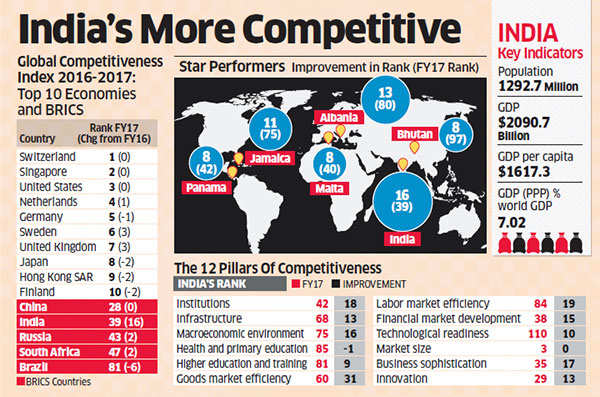 The forum's analysts called India the best-performing economy in south Asia and an engine of growth in the region with recent reform efforts on improving public institutions, opening the economy to foreign investors and international trade, and increasing transparency in the financial system aiding its performance.
They said the Goods and Services Tax, if implemented well, will be a "game changer" for India.
While a decline in openness was cited as a major threat to the global competitiveness, India's improved performance has been attributed to an increase in its openness.
Moreover, the report said there was convergence in the competitiveness of the world's largest emerging markets.
"China, on 28, remains top among the BRICS grouping although another surge by India – which climbs 16 places to 39 – means there is now less of a gap between it and its peers. With both Russia and South Africa moving up two places to 43 and 47, respectively, only Brazil is declining, falling six places to 81," it said.
However, analysts at the forum pointed out stressed balance sheets of banks, low female participation in the labour force, and a large part of country not connected to the internet among India's weaknesses. Tax regulations, corruption, tax rates, poor public health and inflation were "problematic factors for doing business," according to the report.