July 24, 2018
Google is a Great Investor, and Alphabet Earnings are Showing the Results
Opinion: Company has claimed more than $4 billion in investment gains in first half of the year, about one-third of its net income
Alphabet Inc.'s big earnings beat was partly due to large gains from investments, and not the money it spends on its own company.
Alphabet GOOG GOOGL, reported way better-than-expected second quarter earnings, after factoring the huge antitrust fine that Google paid to the European Union, and sent shares toward record highs. Excluding the fine, Alphabet's earnings would have been $11.75 a share, way above analysts' consensus estimate of $9.64 a share, according to FactSet.
That large gap between expectations and results was mostly due to a $1.06 billion in gains in securities, as Google's parent company continues to factor in increases on its outside investments under new accounting rules. Alphabet executives were not asked about the gains on a conference call Monday afternoon with analysts, who did not seem that interested in the extra billion dollars of net income.
"It's a way of accounting for existing investments on the books," JMP Securities analyst Ron Josey explained in a telephone interview.
"Honestly, I think most of us just back out those below-the-line items, and/or focus on operating profit," Colin Sebastian, an analyst with Robert W. Baird & Co., said in an email.
Sebastian, who rates Alphabet an outperform, noted that the accounting change added a benefit of $1.17 to its earnings, the majority of the beat, and used that figure to adjust Google's earnings to $10.58 a share in a note to clients.
Google's investment gains should not be removed or ignored, however. According to Crunchbase News, Alphabet was the most active and largest corporate investor in the tech sector in 2017, surpassing both SoftBank Group Corp. 9984, of Japan and Intel Corp.'s INTC Intel Capital.
Early investments from Google's GV and CapitalG investment arms are starting to pay off, in both initial public offerings and acquisitions. Since January, 20 Google-backed companies have had liquidity events according to Crunchbase data; there have been more than 50 since 2016. Alphabet declined to comment on the gain or its investments, including disclosing the major components of the gains.
During the quarter Alphabet reported Monday, one investment, Glassdoor Inc., was sold for $1.2 billion to a Japanese human resources company called Recruit Holdings, while another, the electronic signature company DocuSign DOCU,  had a strong IPO in which GV sold about 412,000 shares and held on to about 1.46 million. Two security investments have paid off recently as well, as Central Intelligence Agency-backed cloud security firm Evident.io was acquired by Palo Alto Networks Inc. PANW, and Zscaler Inc. ZS, went public in the first quarter.
Beyond straight tech company plays, Google's venture capitalists have also invested in a handful of biotech and health-care companies, at least three of which have either been acquired or gone public in the past three months.
Alphabet's investments gained more than $3 billion in the first quarter, when the company began following the new accounting rules, thanks to a fresh Uber Technologies Inc. stake it collected in the Waymo lawsuit, among other gains. With the $1 billion-plus disclosed Monday, the total gains for Alphabet's investments in the first half of the year account for nearly one-third of Google's GAAP net income figure for that period.
That is far too large a chunk of Alphabet's profit, and too much money, for investors to ignore. For bulls, the cash Alphabet could realize by selling investments in the future is another strong point in their favor, while bears can say earnings are being propped up by large paper gains that may never materialize. Either way, Alphabet's investments should start getting more attention as they boost Google's bottom line.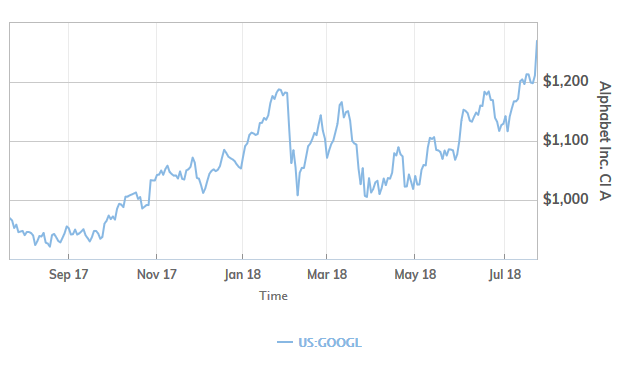 Alphabet shares surged Monday to after-hours prices that would be record highs if they were to happen in regular trading. Class A shares are already up 15% so far this year, compared with the S&P 500 index SPX, up nearly 5% in 2018.
Article and media were originally published by Therese Poletti and Max A. Cherney at marketwatch.com