October 31, 2016
Gold Holds Gains From Last Week as U.S. Election Polls Tighten
Prices advanced on Friday after FBI reopened e-mail probe
Fed policy makers set to gather this week to review rates
Gold traded little changed after rising on Friday as U.S. polls showed that Hillary Clinton may have lost some ground to Donald Trump in the presidential contest.
Bullion for immediate delivery slipped 0.1 percent to $1,274.54 an ounce at 10:06 a.m. in London, according to Bloomberg generic pricing. On Friday, prices climbed as much as 1.3 percent to the highest in a month.
The U.S. presidential race has supported bullion in recent months amid concern about the possible implications of a Trump presidency. On Friday, Federal Bureau of Investigation Director James Comey said the agency is reviewing newly discovered e-mails that may be pertinent to its investigation of Clinton's use of a private server during her tenure as secretary of state. Polls taken since the announcement suggest the Democrat is losing some support.
 "The market really doesn't like the idea of a Trump presidency, so we had a bit of a safe-haven rally on Friday as further investigations were discussed," Dan Smith, a commodities analyst at Oxford Economics Ltd. in London, said by phone. "We remain bearish on the outlook for gold, particularly if interest rates in the U.S. are increased later this year."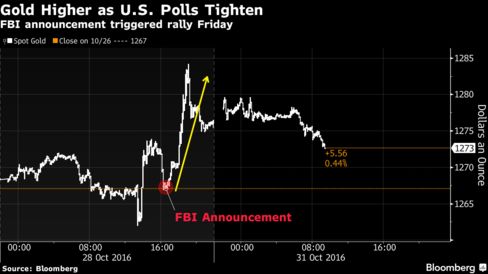 An ABC/Washington Post tracking survey released Sunday, conducted both before and after Comey's letter was made public, found about one-third of likely voters, including 7 percent of Clinton supporters, said the revelations made them less likely to support the candidate. A CBS/YouGov survey of likely voters across 13 battleground states showed that 1 percent of Hillary Clinton supporters were less likely to vote for her.
Federal Reserve policy makers are gathering this week, but investors do not expect them to alter course before the U.S. election. The odds of a hike in December are at 69 percent.
In other precious metals:
Silver rose 0.5 percent to $17.843 an ounce.
Platinum was little changed at $980.64 an ounce.
Palladium was also little changed at $620.80 an ounce.
Article and media originally published by David Stringer and  Eddie Van Der Walt  at bloomberg.com