August 23, 2016
Euro-Area Economy Shrugs Off Brexit as Key Index Edges Up
What's the Biggest Threat Facing European Growth?
Composite PMI rose for second month in August to 53.3
IHS Markit says region's economy on steady growth path
The euro-area economy maintained its momentum in August, with growth showing little sign of being curtailed by fallout from the U.K.'s Brexit vote.
A composite Purchasing Managers Index for the 19-nation region rose for a second month to 53.3 from 53.2 in July. That's above the 50 level that divides expansion from contraction and marks the best reading in seven months. The increase was driven by an improvement in services, while manufacturing activity slipped.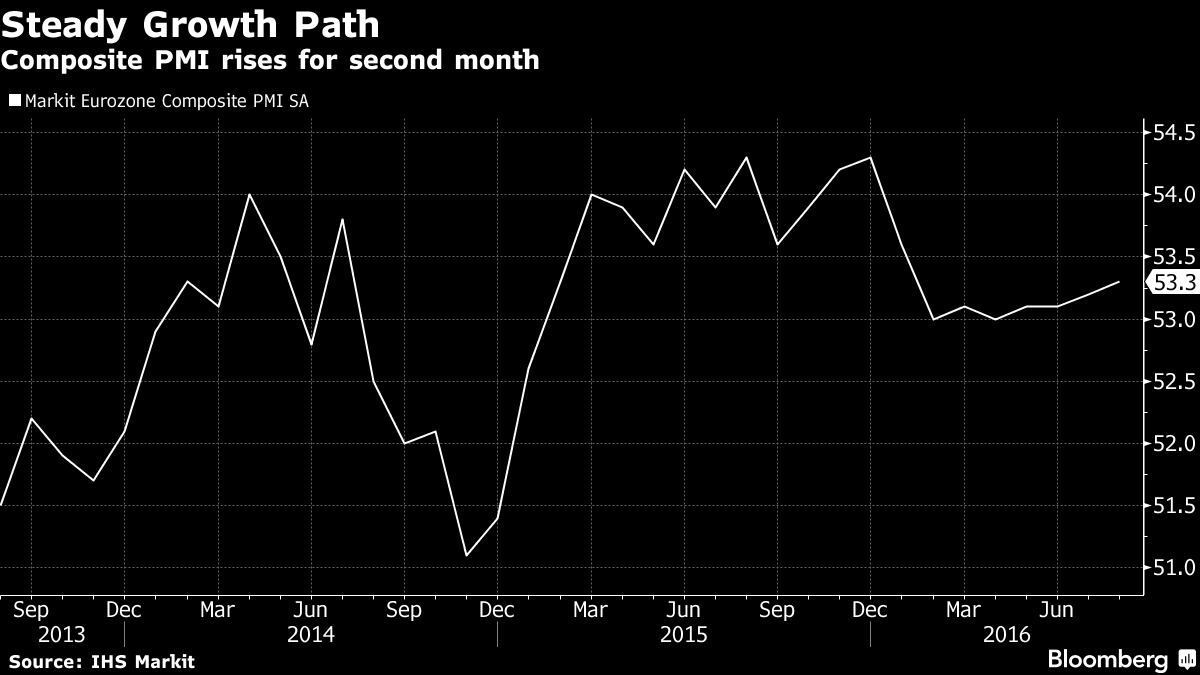 "The PMIs suggest that growth still is more robust in the service sector than in manufacturing – a phenomenon that can be observed in many regions and that goes hand in hand with slow growth of global goods trade," said Holger Sandte, chief European analyst at Nordea Markets in Copenhagen.
 IHS Markit said its report shows the euro-zone economy remains on a "steady growth path," though it noted that inflation remains muted and services confidence dipped this month. It estimates GDP growth of about 0.3 percent this quarter, similar to the average of the first half of the year.
There are "no signs of the recovery being derailed by Brexit uncertainty," said Chris Williamson, chief economist at Markit in London.
While the PMI will "add to the belief" that the European Central Bank won't see a need for immediate further stimulus, "the weakness of the overall pace of expansion and disappointing trends in hiring, order books, business optimism and prices all suggest that policy makers will keep the door open," he said.
Germany's composite PMI dropped to 54.4 in August from 55.3 in July, IHS Markit said earlier. In France, an improvement in the services sector helped to push its composite measure to a 10-month high of 51.6 in August from 50.1 in July.
Article and media originally published by Fergal O'Brien at bloomberg.com