September 16, 2016
Deutsche Bank Drops on $14 Billion DOJ Claim Lender Rebuffs
Negotiations are 'just beginning,' lender says in statement
Cryan is looking to settle legal issues as soon as possible
Deutsche Bank AG slumped after receiving a $14 billion claim from the U.S. Justice Department to settle an investigation into the firm's sale of residential mortgage-backed securities, a figure the German lender said it's not willing to pay.
"Deutsche Bank has no intent to settle these potential civil claims anywhere near the number cited," the company said in a statement early Friday in Frankfurt. "The negotiations are only just beginning. The bank expects that they will lead to an outcome similar to those of peer banks which have settled at materially lower amounts."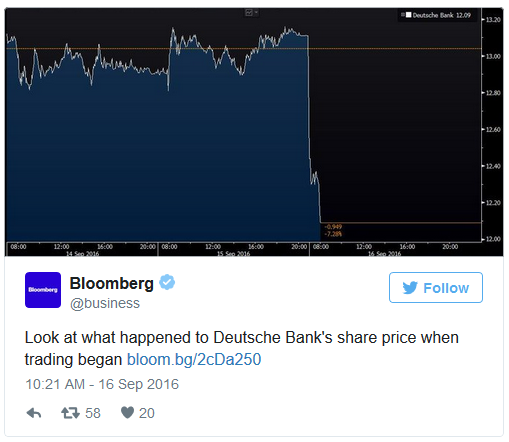 Deutsche Bank Chief Executive Officer John Cryan, 55, has struggled to boost profitability as unresolved legal probes and claims compound concerns that the lender will be forced to raise capital or sell assets. Reaching a mortgage deal would clear a major hurdle for the bank, which has paid more than $9 billion in fines and settlements since the start of 2008, according to data compiled by Bloomberg.
'Very Negative'
"Overall it's very negative for the share price if you look at the Justice Department figure but you don't know where it will end up," said Andreas Plaesier, an analyst at Warburg Research with a hold recommendation on the shares. "If you come down to the Goldman amount they may not need to do much in terms of reserves."
Deutsche Bank dropped as much as 8.2 percent and was down 6.8 percent at 12.22 euros at 9:32 a.m. in Frankfurt. Other European lenders probed in relation to residential mortgage-backed securities also declined, with UBS Group AG down 2.2 percent and Credit Suisse Group AG slipping 4.1 percent. Royal Bank of Scotland Group Plc slumped 4 percent, while HSBC Holdings Plc decreased 0.4 percent and Barclays Plc fell 2 percent.
The bank's 1.75 billion euros of 6 percent additional Tier 1 bonds, the first notes to take losses, fell 6 cents to 77 cents on the euro. Deutsche Bank's 650 million pounds of 7.125 percent notes fell 6 pence to 80 pence on the pound, also a record fall.
"They are dropping like a stone," said Tomas Kinmonth, a credit strategist at ABN Amro Bank NV in Amsterdam. "The fine, even if reduced, could surpass all provisions held by the bank."
DOJ Negotiations
Germany's largest lender confirmed that it had started negotiations with the Justice Department to settle civil claims the U.S. may consider over the bank's issuing and underwriting of residential mortgage-backed securities from 2005 to 2007. The Wall Street Journal reported the $14 billion claim earlier on Thursday.
Bank of America Corp. paid $17 billion to reach a settlement in a similar case in 2014, the biggest such accord to date. Goldman Sachs Group Inc. agreed to a $5.1 billion settlement with the U.S. earlier this year, including a $2.4 billion civil penalty and $875 million in cash payments, to resolve U.S. allegations that it failed to properly vet mortgage-backed securities before selling them to investors as high-quality debt. The settlement included an admission of wrongdoing.
The Justice Department, in concluding previous investigations into the sale of mortgage-backed securities that soured during the financial crisis, typically has presented initial penalties higher than what banks ultimately paid, people familiar with those negotiations have said. The sides may negotiate over the final tab, as well as what conduct the bank will acknowledge and whether individuals will be sanctioned.
Justice Department spokesman Peter Carr declined to comment on the negotiations.
Capital Concerns
JPMorgan Chase & Co. analysts wrote in a note to clients earlier Thursday that a settlement of about $2.4 billion "would be taken very positively," and that an agreement exceeding $4 billion would pose questions about Deutsche Bank's capital positions and force it to "build additional litigation reserves."
"In defense of protecting its shareholders' money, Cryan is well within his rights in negotiating a more equitable and just settlement with the U.S. government, and calling this one a punishment that's several orders of magnitude greater than the crime," said Tony Plath, a finance professor at the University of North Carolina. Plath expects a final settlement of about $4 billion to $5 billion.
Settlement Goal
Cryan has said that he aims to settle major outstanding legal issues as soon as possible as part of his wider overhaul. Deutsche Bank had 5.5 billion euros ($6.2 billion) set aside for settlements and fines at the end of June, with Chief Financial Officer Marcus Schenck saying in July that the lender will probably face "material" litigation charges in the second half.
In addition to the U.S. mortgage investigation, Deutsche Bank faces litigation and regulatory probes relating to issues such as foreign-currency rate manipulation and precious metals trading. The German bank is a party to 47 civil actions concerning the setting of interbank lending benchmarks, according to its 2015 annual report published in March.
There's "still limited visibility over the total legal bill" even if Deutsche Bank reached a settlement over residential mortgage-backed securities, analysts at HSBC wrote in a note earlier this week. They have a hold recommendation on the shares.
Article and media originally published by Dakin Campbell, Tom Schoenberg and Jan-Henrik Foerster at bloomberg.com