April 18, 2018
Bitcoin Whales Dump $100 Million of Digital Currency in 24 Hours
Did a single seller move the price of bitcoin $200 in 20 minutes?
The price of bitcoin took a dive Tuesday, falling by more than $200 in under 20 minutes, a move that could have been the result of a single seller unloading a sizeable amount of the digital currency.
The balance of wallet 3D2oetdNuZUqQHPJmcMDDHYoqkyNVsFk9r — an anonymous digital account which is valued at $1.49 billion — fell by 6,500 bitcoin Tuesday, with the average sale price sale being $8,146.70, a total value of just over $50 million, according to bitinfocharts.
The sale comes a day after the third-largest wallet, which famously purchased over $400 million in bitcoin in February, let go of 6,600 bitcoin at an average price of $8,026. All told, the two whales dumped over $100 million of bitcoin within 24 hours.

As expected, online forums lit up, speculating on what or who was behind the sharp move lower.
"Holy hell, these dumps out of nowhere. I was looking at some alts, then I check back to bitcoin and BAM it dropped $200 instantly," one Reddit user wrote.
Initial reaction was to point the finger at New York Attorney General Eric Schneiderman, who announced he was launching an inquiry into 13 cryptocurrency exchanges, seeking information including exchange fees, volume data and procedures around margin trading.
However, that news broke nearly four hours before bitcoin's move lower.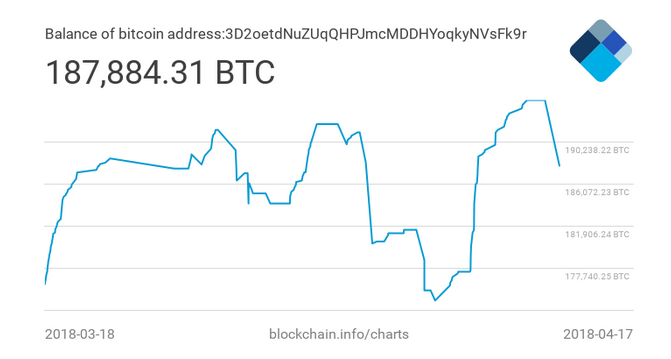 Previous selloffs in bitcoin have been blamed on sizeable single-user selling, with the most famous case being the Mt. Gox sale on March 7, when its trustees announced they had liquidated over $400 million in bitcoin and bitcoin cash.
Significant selling seems to be the flavor of the month. On April 12, the second-biggest bitcoin wallet sold $38 million of the No. 1 digital currency.
Early Wednesday, a single bitcoin BTCUSD, was worth $8,111.56, up 2.5% after battling to hold above the $8,000 mark, having got a boost late Tuesday on upbeat remarks from International Monetary Fund Managing Director Christine Lagarde.
Article and media originally published by Aaron Hankin at marketwatch.com