The largest cryptocurrency by market capitalization dropped nearly 10 percent on Coinbase in a sudden move after the SEC statement stoked fears that tightening regulation could restrict future trading. Bitcoin fell to near $9,500 but had recovered slightly to $9,969 as of 5:08 p.m. ET.
Bitcoin 24-hour performance

Source: Coinbase
According to the SEC statement:
"If a platform offers trading of digital assets that are securities and operates as an 'exchange,' as defined by the federal securities laws, then the platform must register with the SEC as a national securities exchange or be exempt from registration."

"The SEC staff has concerns that many online trading platforms appear to investors as SEC-registered and regulated marketplaces when they are not. Many platforms refer to themselves as "exchanges," which can give the misimpression to investors that they are regulated or meet the regulatory standards of a national securities exchange."
The statement from the regulatory agency comes after weeks of subpoenas from the SEC in its attempt to establish better control over the many trading platforms and exchanges.
"The SEC continues to draw a line in the sand between securities and non-securities but without going so far as to name names," said Spencer Bogart, partner at Blockchain Capital.
However, he expects the crackdown will focus more on so-called "alt-coins" than bitcoin, potentially helping the price of the largest cryptocurrency by market cap. "Of all crypto assets, bitcoin seems least likely to be deemed a security — by a long shot," Bogart said.
Whether securities laws apply to digital coins has remained a matter of much speculation, resulting in firms relying mostly on self-disclosure and attorneys to try to distinguish themselves from common scams.
Current views on whether an asset is a security tend to follow the "Howey Test," which comes from a 1946 U.S. Supreme Court case. The ruling says a security involves the investment of money in a common enterprise, in which the investor expects profits primarily from others' efforts.
Bitcoin is down roughly 50 percent from all-time highs near $20,000 reached in December, falling sharply since then as ongoing fears of government regulation plague the cryptocurrency.
But news of a potential phishing problem on one of the largest cryptocurrency exchanges also weighed on the asset Wednesday.
In a statement on Twitter, Binance.com CEO Changpeng "CZ" Zhao said that the site was still investigating potential irregularities in trading.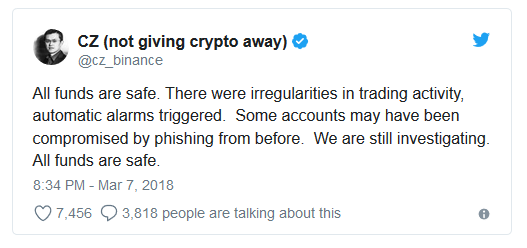 According to CoinMarketCap, Binance is one of the top three largest exchanges in the world based on trading volume.
CNBC's Evelyn Cheng contributed to this report
Article was originally published by Thomas Franck at CNBC.com