October 21, 2016
How the almighty dollar will tell you where stocks are going next
Don't look to earnings to bust this market out of its rut.
Stock futures are pointing lower even as Microsoft rockets toward a record, trading in premarket action above its dot-com peak after its latest results. Goldman and Netflix also fired off some pretty decent earnings this week, but with one session left to go, the S&P 500 SPX, -0.37% is up just 0.4% for the week, while the Dow DJIA, -0.57% is limping along with a 0.1% gain. The Nasdaq COMP, -0.05% is faring marginally better at a 0.5% advance for this week. October on the whole, so far, is looking like a mild loser.
There's more to the stock-market malaise than earnings. Fed rate-hike prospects, a strong dollar and a bonkers U.S. election are all helping to keep investors tepid on riskier assets, strategists say.
The stalemate goes beyond just a few days.
"The S&P 500 hasn't made a new high in 46 days, the longest streak in 15 months," notes LPL Financial. The index has hung out within 3% of its all-time high for 79 straight days, that shop adds.
"The last time it was this close to new highs for this long was May 1995," LPL says. "This much lack of activity this close to new highs is extremely rare and suggest when the move out of the range occurs, it could bring with it a good deal of volatility."
If you want to know where stocks and other assets are headed next, look no further than the dollar. So says our call of the day.
Our chart of the day highlights how record-setting Microsoft is rewarding its faithful investors.
Enjoy those victory laps: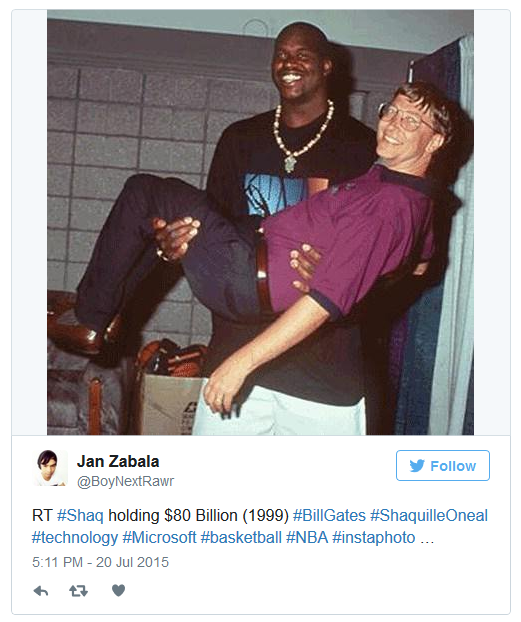 Key market gauges
S&P 500 futures ESZ6, -0.49%  and Dow futures YMZ6, -0.70%  are looking downright ugly, with a triple-digit loss on tap for the DJIA. That's as the dollar climbs, crushing the euro EURUSD, -0.4758% pound GBPUSD, -0.4652%  and everything else in its path.
Europe stocks SXXP, -0.21% aren't getting hit as bad. Asia stocks ADOW, -0.30% mostly fell, with Hong Kong HSI, +0.30%  shuttering markets ahead of Typhoon Haima.
Oil CLZ6, -0.47%  has turned lower, while gold GCZ6, -0.06% is hanging onto a weekly gain.
The call
The dollar could be about to flex its muscles again, says Sean Emory, chief investment officer at Avory & Co., in a Market Meter blog post.
Watch the buck, and you just might get a sense of where stocks, oil and other assets are headed next, he suggests.
The ICE U.S. Dollar Index DXY, +0.39% , though still down 0.2% year to date, has hit an eight-month high this morning. The dollar has struggled as the market has gone back and forth on whether the Fed will hike rates by the end of the year.
Via this chart of the PowerShares DB U.S. Dollar Index Bullish Fund UUP, +0.39%  , Emory shows how the dollar is running into a key trend line:
As the dollar has been "proven to be a force" in market over the past few years, he says now is not the time to take your eye off it.
"I think right now, with so many markets sitting at such critical levels, the U.S. dollar could be the lynch pin," he says.
"A failed breakout in the U.S. dollar may allow oil to breakout, then send emerging market equities above resistance [and] allow the S&P 500 to hold on to support."
Earnings
GE GE, -2.06%  is down and Honeywell HON, -0.05%  is up after reporting respective results. McDonald's MCD, +2.61%   earnings are is still to come.
Microsoft MSFT, +4.33% is 5% in premarket up on track for a record closing high after posting solid gains from its cloud business. See chart of the day.
AMD AMD, -5.10% is down 7% on disappointing revenue projections. PayPal PYPL, +7.21% and Schlumberger SLB, -2.34%  also reported late yesterday.
The chart
Microsoft cheered up Wall Street with its earnings last night, putting the stock on track to finally top its 1999 peak.
As some would say, this is a case where patience pays off for a dogged investor. Here's a chart that looks back on the past 17 years:
Some have been pretty fond of saying that Microsoft is "where your money wants to go and die," says Scott Redler, partner with T3Live.com, in this video recap.
But if "you've been investing in it every month, every year … congratulations. It's amazing that it's been reborn. It's working well and the money did not go to die there," Redler adds.
Still, Microsoft has underperformed the S&P 500 since '99, so that's a very patient investor indeed.
Here's a taste of what needs to happen Friday if this move is to continue: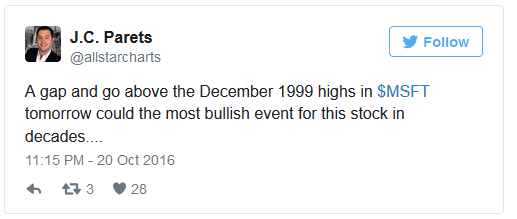 The buzz
British American Tobacco BATS, -0.25%  announced a $47 billion offer for the stake it doesn't already own in U.S. peer Reynolds American RAI, +15.96%  , whose shares shot up 20% in premarket.
Tesla TSLA, +0.76%  has put a price tag on its new self-driving feature — $8,000.
Nintendo 7974, -6.55%  unveiled a new videogame platform — a console hand-held hybrid called Switch, and shares promptly fell 17% in Tokyo.
Qualcomm QCOM, +2.21%  could be nearing a deal for NXP Semiconductors NXPI, -2.61%  next week, says Bloomberg, citing sources.
Apple AAPL, -0.44%  buys up chargers and cables on Amazon.com AMZN, +0.31% that claim to be genuine, finds 90% are fake. The company filed a lawsuit on Monday against Mobile Star for selling fakes that Apple says are dangerous.
The stat
£3.5 billion ($4.2 billion) — That's how much U.K. gamblers wagered and lost in 2015, about €75 for every adult in the country, reported The Times of London. The country's competition watchdog has called in bookmakers to get to them explain why the industry has been canceling winning bets and not paying out, the newspaper reported.
The quote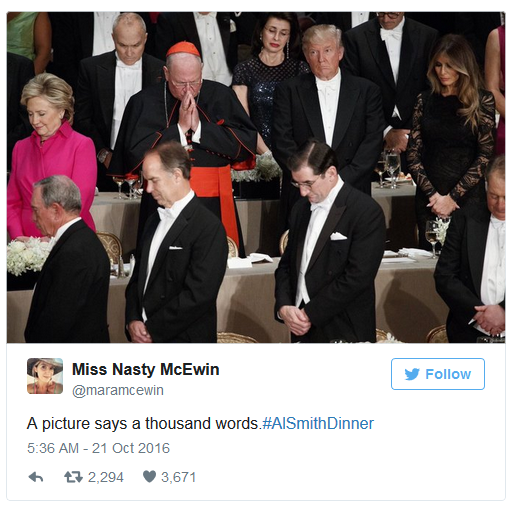 "…the iciest place on the planet." — That's Cardinal Timothy Dolan describing what was like to sit between Hillary Clinton and Donald Trump at the Al Smith charity dinner in New York Thursday night. The fundraiser got a bit awkward, as the jokes turned biting, especially from Trump, who got a round of boos. Check out all the zingers here.
Article and media originally published by Barbara Kollmeyer at marketwatch.com