October 13, 2016
Tiny Bank-Beating Trading Firm Doesn't Use Any Human Traders
Self-learning machines help put XTX among top currency traders
Company is expanding into other markets, geographies
One of the world's fastest-growing trading shops doesn't have any traders.
XTX Markets Ltd. has emerged as a foreign-exchange powerhouse, relying on programmers and mathematicians to fuel its rise into the global top five earlier this year. Now, after becoming a formidable player in currencies, XTX has its sights set on growing in stocks, commodities and bonds markets.
But in a world where the difference between profit and loss can be tiny fractions of a second, XTX says it relies more on smarts than speed. Instead of building microwave networks to ferret out prices a microsecond before anyone else, XTX uses mathematical models that are tuned with massive data sets. It says its technology has computing power comparable to some of the world's top supercomputers.
 XTX's rise comes amid a market shift: In an
arms race
where just about anyone can lease ultra-fast trading systems, it's harder than ever to get an advantage simply by being fast. That may have opened up an opportunity for firms with sophisticated statistical models, says Greenwich Associates. As XTX co-chief Zar Amrolia sees it, a key trial for the London-based firm comes when it competes in even more markets that are dominated by high-frequency traders, particularly in the U.S.
Speed vs. Smarts
"Can a smart, machine-learning approach beat probably a less sophisticated algo which is faster?" Amrolia said. "That'll be a really exciting test."
XTX's other Co-Chief Executive Officer Alex Gerko, 36, points out that some of its 74 employees would still call themselves traders. But their jobs aren't really recognizable to the humans who used to fill football-field-sized trading floors.
"We don't have any human decision making in trading," said Amrolia. "We do have trading analysts who look at the algorithms and see if they're functioning well in the market and doing what we designed them to do."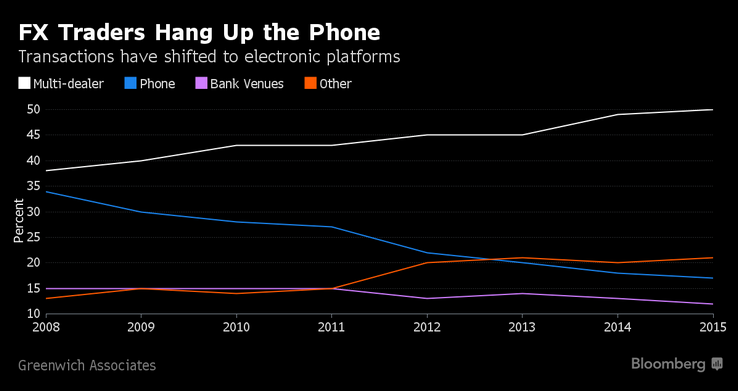 Proprietary traders haven't submitted completely to their machines. There's still an element of human interaction with the trading systems, said Mark Spanbroek, vice chairman of the FIA European Principal Traders Association.
"It's like autopilot," said Spanbroek, who formerly worked at automated trader Getco Europe Ltd. "The pilots are sitting there to navigate it through bad weather."
Instead of old-school traders, XTX has analysts like the one who stepped in when the pound plunged last week. At about 12:07 a.m. in London, an employee saw multiple alerts showing the British currency had strayed way outside its normal range. The pound's early morning ride — at one point a 6.1 percent drop — triggered XTX's risk controls and halted trading.
Flash Crash
After consulting senior staffers, the alerts were overridden shortly after and XTX fired up its trading algorithms again. Platform operators including FastMatch Inc. say electronic specialists have lately provided more bids and offers — in other words, much-needed liquidity — than banks when trading goes haywire.
While profits in some bank businesses have evaporated, they're going to remain vital for global finance, says Greenwich Associates' Kevin McPartland. XTX ranked fourth in spot currency trading in Euromoney Institutional Investor Plc's annual survey, but was ninth overall, well behind Citigroup Inc. at No. 1. Electronic specialists Tower Research Capital LLC, Jump Trading LLC and Virtu Financial Inc. also made the top 50.
"The parts of the banks' trading business that have become less profitable since the financial crisis is where the principal trading firms are stepping in," said McPartland, head of research for market structure and technology at the firm.
Banks do have advantages — they're armed with immense resources and have their own top quants. Wall Street also has cutting-edge technology and can copy others' lucrative strategies to push smaller firms out of business. An upstart's success hangs on being more nimble and innovative.
Even before the pound's plunge, XTX had argued that liquidity was evaporating because balance sheets — the market-making shock absorber known as inventory — had evaporated, too. Bank of America Corp.'s analysts said last week that foreign-exchange transactions have a 60 percent greater impact on prices than just two years ago.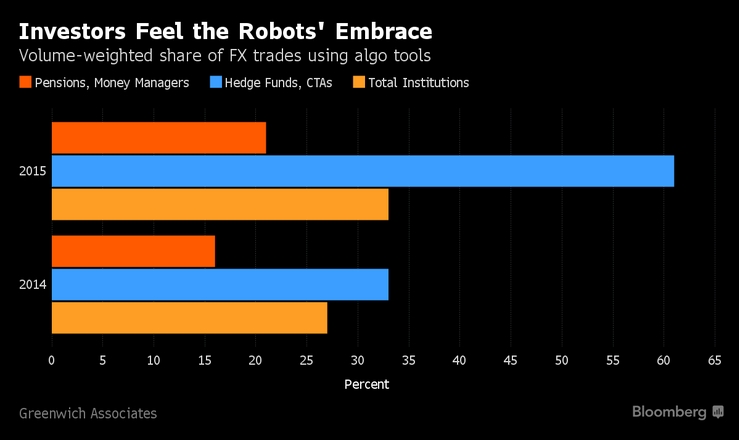 XTX's balance sheet is part of its pitch. XTX doesn't always have to dart in and out of trades because, more like a traditional bank market maker, it takes risk using capital. Prices change in microseconds in some markets, but the firm touts holding periods that can last 10 minutes or more. It has 100 million pounds ($122 million) of regulatory capital.
XTX isn't the only electronic trading company that takes trading risk, but doing so is a change from the past when most such firms didn't commit capital at all, Greenwich Associates says. KCG Holdings Inc. has about $500 million of regulatory capital and shareholder equity of $1.45 billion.
Speed Bumps
XTX executives also favor speed bumps that neutralize the advantages of the fastest trading firms, arguing that some lightening-fast trading does little more than arbitrage prices between markets. Such strategies could end up costing an investor because subsequent trades will be more expensive, XTX says.
A challenge for XTX is finding and recruiting talent to create its intellectual fuel for trading. The competition to lure the world's top mathematicians and technologists isn't just against Wall Street and other computerized traders, as XTX is now also up against tech giants like Google.
Forget MBAs, XTX is looking for uncommon traits like "extreme quantitative skills and a good understanding of technology," said Amrolia, 53, who has a Ph.D. in mathematics from the University of Oxford.
The competition between trading firms and Silicon Valley startups for top talent is a relatively new phenomenon, says Denis Ignatovich, former head of the central-risk trading desk at Deutsche Bank AG, where he started in 2007.
Startup Gold
"When I was getting into this industry, things like Facebook seemed so out there," said Ignatovich, who went on to help found an artificial intelligence firm called Aesthetic Integration. "It seemed random for someone to go and strike gold with a startup."
And if foosball tables, PlayStations and other tech firm perks aren't enough to draw the brightest minds, XTX gives most employees equity in the company. Ultimately, however, talent will go there to prove themselves, learn from some of the best minds and, hopefully, make some money, Ignatovich said.
If it works, the new breed of trading firms perhaps someday will make even more bank operations go the way of MySpace or VHS.
"They will hone their market making skills and we will see a number of them become big established names," said Niki Beattie, a Merrill Lynch alum who now heads adviser Market Structure Partners. "Over time, yes, these guys can replace what banks did."
Article and media originally published by John Detrixhe at bloomberg.com