July 12, 2017
Intel Officially Joins Fight with Nvidia and AMD, but Results Could be a Long Time Coming
Intel Corp. pulled out all the stops Tuesday with the most important product launch in the history of its data-center business, as the world's largest chip maker faces the fiercest competition ever to its dominance.
On Tuesday, Intel INTC hosted an unusual product launch at the Brooklyn Navy Yard, where it unveiled its next-generation Xeon chips for servers, a market it has controlled for years, with onstage endorsements from customers like Alphabet Inc.'s GOOGL, GOOG Google and Amazon.com Inc.'s AMZN Amazon Web Services. The official unveiling of its new chip family, which has been anticipated by investors for months, arrives after a launch on the same platform by longtime rival Advanced Micro Devices Inc. AMD and a sudden server rise from graphics specialist Nvidia Corp. NVDA that has raised questions about Intel's continued leadership position.
"This is the most competitive environment we have seen in a decade," Bernstein Research analyst Stacy Rasgon said.
"They are trying to show that they still have leadership and that they can still have a great business," Rasgon explained about Intel's launch. "Part of this is because there is so much hype around the competing products, they want a chance to tell their story."
Intel had a 99.7% market share in 2016 for the brain chips (central processing units, or CPUs) for commodity servers, the most popular type of servers sold in the world. That revenue totaled about $16.5 billion last year, according to Dean McCarron, principal analyst at Mercury Research. AMD was its only rival in this space, and had basically ceded most of its market share because it lacked any new products in this booming area, until this year.
 Investors mostly shrugged off Intel's news on Tuesday, as shares stayed mostly flat even while Intel touted that it has sold more than 500,000 of the new Xeon Scalable processors to major customers at corporations, high-performance computing sites, cloud-computing companies and communication-services providers. That continues a blah run for Intel stock, which has declined 1.3% in the past year while Nvidia has roughly tripled in value, AMD has gained more than 177% and the S&P 500 index
SPX
has increased 13.5%.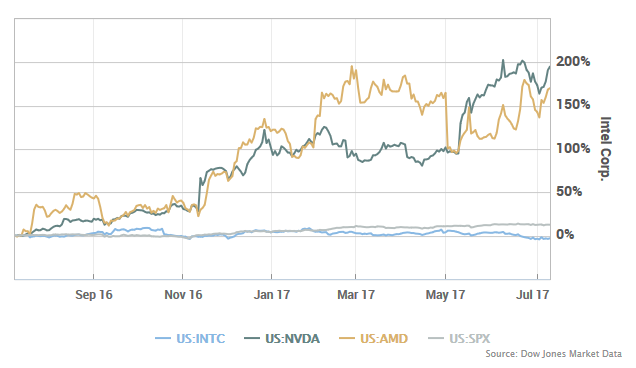 Cloud computing is clearly a major target for these processors: AMD featured Microsoft Corp.'s MSFT Azure cloud business and Baidu Inc. BIDU at the launch event for its new Epyc chips, while Nvidia has crowed about business with Google, AWS and more. But cloud customers are notoriously fickle, as pointed out by Rob Enderle, principal analyst with the Enderle Group. In at least one quarter, inconsistent ordering by cloud-computing providers was cited for slower growth in Intel's data center business. Their hard-won loyalties can easily shift.
Analysts also note that the server market moves more slowly than consumer markets, and it will take time before any sales by AMD take hold and impact Intel's dominant market share.
"Changes in server happen very slowly at first, the design and qualification cycles are long, so a new product on the market takes a while—often a couple years—to ramp to volume," said McCarron of Mercury Research. "Without forecasting the share in any way, any changes will be modest simply due to how the market works. Changes made today show up in share results 18 months to two years from now."
Intel's data-center business was growing faster than its legacy PC business, but Its growth has slowed in the past two years, causing much consternation among investors. In addition, Intel's market share is so dominant that "they have nowhere to go but down," Rasgon said.
In addition to the threat in x86 architecture from AMD, the company is seen as having fallen behind in artificial intelligence, one of the important workloads for servers in the corporate data center. Graphics processing units, or GPUs, from companies like Nvidia are becoming more widely used in servers, in concert with CPUs but in far greater quantities.
Jefferies Inc. analyst Mark Lipacis wrote on Monday that he believes that "the center of gravity of cloud processing is drifting away from x86."
Data centers like Facebook Inc.'s FB Big Basin were designed with far more GPUs for AI tasks such as facial recognition than the core CPU chips, provided by Intel. Also, Lipacis noted a few inroads being made by SoftBank Group's 9984 ARM chip designs, which are different then the x86 architecture, in data centers owned by large companies like Alibaba Group Holding Ltd. BABA.
"You have workloads driving demand, and being taken up by other types of silicon," Bernstein's Rasgon said.
Many trends are working against Intel, but it believes the launch of the new Xeon chips will turn the tide. If it doesn't save Intel's dominant position, it may take awhile before we even know for sure, though Lipacis expects a continued deceleration in its data center business in the mid-single digit range for the next 12-24 months.
Intel is going to fight fiercely, as the home of Moore's Law always does, and it has plenty of power and might with corporate customers. Intel will have to use all of that to beat back the most spirited challenge to the server-chip champion we have seen yet.
Article and media originally published by Therese Poletti at marketwatch.com