August 5, 2023 | Issue 35
Impact of Fitch Downgrade on US Debt and Markets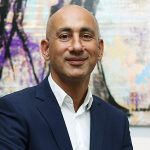 Nikolay Stoykov
Managing Partner at Alaric Securities

What are the credit rating trends and long-term implications?
If you are an active trader or an investor, you are likely aware of the recent Fitch downgrade that took place on August 1st, 2023. Fitch Ratings Inc downgraded US government debt from AAA to AA+, citing various reasons, with the rising level of US government debt relative to GDP being one of the most significant factors behind the decision.
Fitch is one of the "Big 3" credit agencies, so their opinion does matter. The question is how much it matters and what it means for US corporate and government bonds and US equity markets.
Let's start with some facts – US government debt is rated by all "Big 3" credit agencies – Fitch Ratings, S&P, and Moody's. However, S&P and Moody's have not issued any rating changes since 2013. Those two agencies still rate US debt as AAA with a stable outlook.
In the meantime, since 2013, Fitch has issued four changes to US credit ratings (primarily changes to outlook).
Fitch actively monitors US credit ratings, whereas other agencies are less active. Such divergence in rating actions is uncommon among major G7 countries, where changes are usually done relatively simultaneously. Typically, one agency leads the downgrade, while others may have issued negative watches.
No negative watch: a temporary relief for US credit rating
Surprisingly US credit rating is not on negative watch by either Moody's or S&P. So, at least for now, we can sleep well. We do not expect other credit rating agencies to follow the downgrade. At least not yet.
That is very important. Investor do look at credit ratings, but usually, many of the investment strategies to follow are written: "if two of the major three credit rating agencies." So, that is even more important.
The credit rating downgrade is a concern, but that concern will grow a lot bigger if another credit rating agency decides to follow and downgrade US sovereign credit rating. Fortunately, given that US credit is not on negative watch by the other two – that most likely will not happen. At least not that soon.
Now let's look at the legitimacy of the Fitch Ratings downgrade. One of the reasons mentioned to justify the action was the increase in Government Debt to GDP ratio:

It is high. It is nearly 119%; however, it has been high for a while, and during the COVID pandemic was as high as 135%!
However, the history of Fitch Rating's actions is most puzzling.
Unraveling Fitch's historical actions: a summer trend
July 31st 2020  –  Fitch puts US debt on negative watch, AAA rating, US Debt/GDP = 130%
August 7th 2022 –  Fitch upgrades the US credit rating to stable watch, AAA rating, US Debt/GDP = 121%
August 1st 2023  – Fitch downgrades US credit rating to AA+ with stable outlook, US Debt/GDP = 119%
We can already see a pattern – Fitch tends to do something with US credit ratings in the summer, lol.
US debt to GDP ratio: high, yet showing improvement
Another interesting pattern is that while the US Debt to GDP Ratio is high at 119%, it is trending down. What is also interesting is that in the summer of 2022, Fitch upgraded the US credit rating when the ratio was higher than the present.
It's important to understand that credit ratings aren't based on a single ratio. Despite what may seem intuitive, we should be confident in Fitch's ability to lower credit ratings even if specific ratios show improvement. However, this isn't usually the case.
The non-conclusive consensus on US creditworthiness
In conclusion, Fitch Credit's downgrade is not a primary concern yet. The fact that Moody's and S&P have not even issued negative watch on the US credit rating indicates a lack of consensus on whether US creditworthiness is deteriorating.
While some fundamental ratios like Debt/GDP are at a historically high level, they have been improving, and many of the other issues Fitch gave to justify the downgrade are not new.
Overall, the downgrade will not impact US debt or equity markets.
Pictured below – history of US credit rating changes: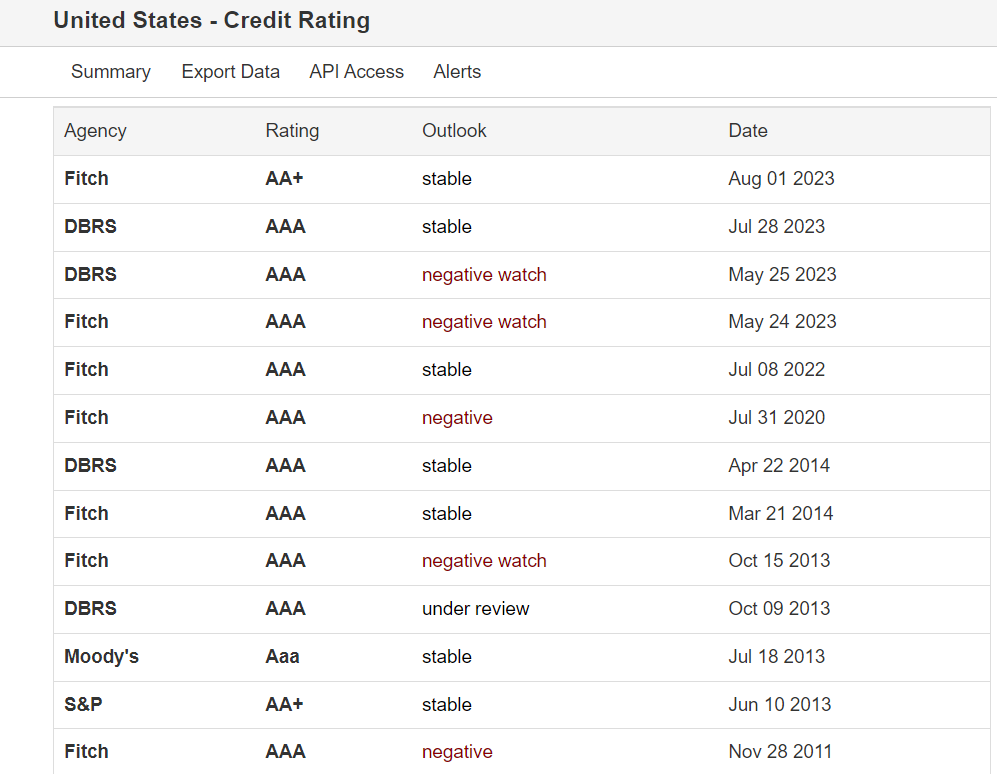 Disclaimer
The articles, podcasts and newsletters from Alaric Securities LLC solely represent the authors' views affiliated with the company; they do not represent the perspectives of Alaric Securities OOD or any of its subsidiaries or affiliates. They are provided solely for informative purposes and do not constitute recommendations for or against purchasing or selling any security. digital asset (such as cryptocurrency), or other assets in any account. They are neither research reports nor meant to be the foundation for any investing decisions. Any third-party information given does not represent the views of Alaric Securities OOD or any of its subsidiaries or affiliates. All investments carry risk, including the potential loss of principal and past success does not assure future success.