December 16, 2016
Here's where contrarian investors plan to make their money in 2017
It's effectively the last Friday before Christmas, and not much is stirring. That means it could be the start of the holiday exodus, when investors pocket their gains and get ready to deck the halls.
Of course, some are probably going to hang around just to see history made — that is, the Dow hitting 20,000. This could be the day. (More in our chart of the day)
"The last potential banana skin this side of Christmas has finally been cleared, and there really is very little to stop equity markets going higher," Interactive Investor's Lee Wild says in a note.
Among those who will be toasting their good fortune are the contrarians, whose global stock-picking strategy has delivered a 31% year-to-date gain, according to Citi strategists. That's the third best yearly performance since 1998, say Robert Buckland and his team. The most successful call was for a rebound in commodity stocks.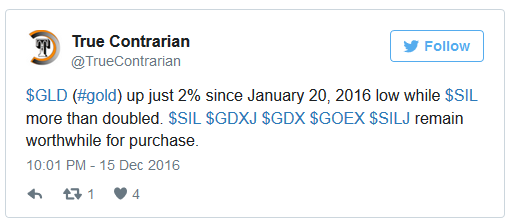 It could be argued that contrarians were due a big payout after three straight years of seeing their strategy underperform, says Buckland. Still, it's worth a peek at their 2017 strategy, which happens to be our call of the day.
In short, that group of investors will get more defensive and call a reversal of this year's trades.
"On an asset class level, they will try to call a downturn in oil prices and equities. They are long U.S. Treasurys," notes Buckland.
"Contrarian stock pickers will be calling for an upturn in health care stocks. They will be bearish on commodity and IT stocks," he says. In particular, Buckland mentions Eli Lilly LLY, CVS Health CVS, , BHP Billiton BHP, BLT and Hewlett Packard Enterprise HPE.
Follow the rebels? Not so fast. "We think it is too early to put on the defensive strategy that a contrarian would currently be adopting," says the Citi team. The team expects oil prices and stock prices to be higher, and Treasury yields to keep rising into 2017.
Here's another big contrarian move you can make for next year, along with some "outrageous" predictions, such as health-care stocks falling 50%.
Key market gauges
It's quiet out there, with small moves the theme of the morning. Dow YMH7, S&P 500 ESH7  and Nasdaq-100 NQH7  futures are rising. The Dow DJIA,  the S&P 500 SPX  and the Nasdaq Composite COMP closed higher Thursday. Just marginal gains are on tap for the week across all indexes.
Crude CLF7  is up, while gold GCG7 has stabilized, but facing its sixth-straight weekly loss. The dollar DXY  is pulling back a bit. See Market Snapshot column for the latest action.
The chart
Stocks are likely headed for a cooldown once the Dow industrials hits 20K, predicts Mark Arbeter. He points to the 14-day relative strength index for the Dow, currently sitting at 87.40. A level above 70 indicates overbought or overvalued territory (see an explanation here).
The president of Arbeter Investments says the last time the Dow was that extended on a daily basis was back in November 1996, after which the index fell for the next 14 days.
Lack of historical precedents aside, Arbeter "can't find a better reason for a pullback than the Dow near 20,000, accompanied by the most overbought index condition in 20 years," he says in his newsletter. Here's his Dow chart: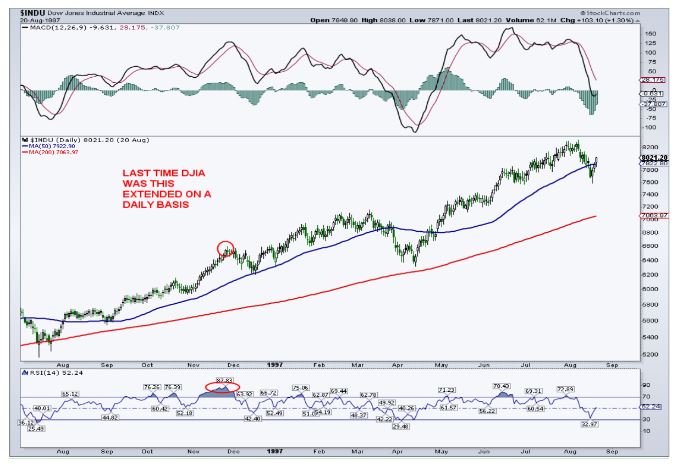 The stat
Negative $18.3 billion — That's the amount of Treasury bonds and notes bought in October, according to fresh data from the U.S. Treasury Department. In other words, "private" foreign investors sold $18.3 billion more than they bought, explains Wolf Street's Wolf Richter.
China was the biggest seller, he says, expanding on what this all means here. His chart (from Trading Economics) puts the selling in perspective:

The buzz
Netflix NFLX has struck an exclusive deal with Bollywood star Shah Rukh Khan.
Oracle ORCL  shares fell late Thursday after the software maker just met Wall Street forecasts. One thing we learned: Oracle isn't beating Salesforce CRM  and Amazon AMZN  when it comes to the cloud. Is it really a good time for Oracle CEO Safra Catz to join Trump's transition team?
Americans returned goods worth $261 billion to retailers last year, more than Apple's AAPL annual revenue.
Disney's DIS  "Rogue One: A Star Wars Story" hits the box office this weekend, and is expected to earn $300 million in that worldwide debut. Twitter is already having kittens about it:

Fresh U.S. data showed housing starts tumbling and building permits down as well.
The quote
"I think there is no doubt that when any foreign government tries to impact the integrity of our elections … we need to take action. And we will — at a time and place of our own choosing. Some of it may be explicit and publicized; some of it may not be." — President Barack Obama.
The outgoing commander in chief made a thinly veiled threat to Russia over cyber-hacking during the election in an interview with NPR. He will hold a press conference on Friday.
This was Trump earlier Thursday:
Article and media originally published by Barbara Kollmeyer at marketwatch.com