May 26, 2017
Gold Prices Poised for Third Weekly Gain
Metals trades at highest level of the month on geopolitical uncertainty
Gold on Friday traded at their highest level of the month, setting prices up for a third weekly gain in a row as a fresh round of geopolitical jitters offset expectations for higher interest rates, which would otherwise be bearish for gold prices.
Investors were watching North Korea, this weekend's Group of Seven meeting, the coming U.K. elections, and the Trump administration, helping to boost gold's appeal as a hedge against uncertainty.
"At the moment it's increasing political uncertainty that is driving the gains rather than [Federal Reserve] speculation," Colin Cieszynski, chief market strategist at CMC Markets, told MarketWatch.
"Between [Thursday's] contentious NATO summit and the potential for fireworks at this weekend's G-7 Summit, plus a tightening U.K. election race, capital has been moving back in to defensive havens like gold," he said, adding that silver and the Japanese yen USDJPY have been climbing. The yen is typically viewed as a currency that investors turn to in times of height
June gold GCM7 rose $10.90, or 0.9%, to $1,267.20 an ounce. A close at this level would be the highest since April 28, according to FactSet data. Prices were set to post a gain of about 1.1% for the week.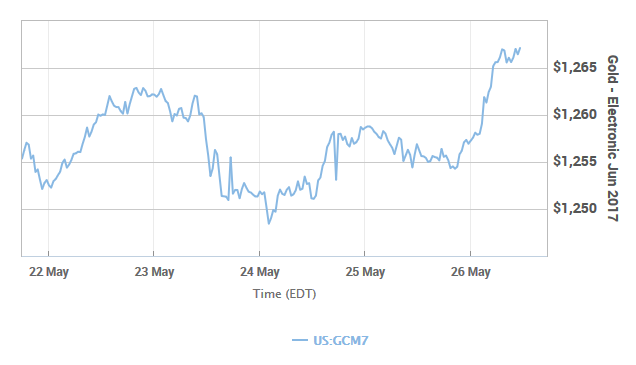 July silver SIN7 rose 15.7 cents, or 0.9%, to $17.35 an ounce, with prices up around 3.3% for the week.
"Traders may also be looking ahead to next week when President [Donald] Trump returns to the U.S. and domestic political turmoil," said Cieszynski.
Trump reportedly said Friday at his bilateral meeting with Japanese Prime Minister Shinzo Abe that the "big problem" of North Korea's ambitions for a nuclear weapon will be dealt with, telling reporters that "you can bet on that," according to Politico and other news outlets.
Trump met with Abe in Italy ahead of the day's slate of larger Group of Seven meetings.
And a YouGov poll for The Times newspaper released Friday showed the lead for the ruling Conservative Party has been cut to 5 percentage points over the Labour Party ahead of the June 8 election, raising the chances for unexpected outcomes in that snap election.
Meanwhile, news that the president's son-in-law Jared Kushner is a focus in the FBI investigation into Russia's involvement in the U.S. presidential election is "also adding some uncertainty to the marketplace," said Jim Wyckoff, senior analyst at Kitco.com.
Looking ahead to next week, the focus is likely to will turn back toward Federal Reserve interest-rate speculation, U.S. ADP payrolls due Thursday and nonfarm payrolls out Friday, Cieszynski said.
The U.S. dollar could rebound on strong economic data, he said. A stronger dollar can put pressure on gold, which is traded in the greenback. On Friday, the ICE U.S. Dollar Index DXY rose 0.2%, trading 0.3% higher for the week, but down 1.7% month to date.
Minutes from the Fed's May meeting released on Wednesday appeared to show that the majority of the central bank's officials remain resolute about hiking rates at their meeting in June. Financial markets are currently pricing in an 83% probability of a rate rise then, according to CME's FedWatch tool.
Higher interest rates tend to be dollar-supportive, cutting demand for dollar-priced gold for investors using other currencies. Higher rates also weigh on demand for nonyielding gold in favor of yield-bearing investments.
Elsewhere in the metals trading, July copper HGN7  fell 0.8% to $2.577 a pound, down about 0.2% for the week. July platinum PLN7 added 1.5% to $967.40 an ounce, trading up 2.9% on the week, while September palladium PAU7 traded at $786 an ounce, up 2.3%—set for a weekly rise of 3.3%.
The SPDR Gold Trust GLD rose 1%, while the iShares Silver Trust SLV rose 1.2%. The VanEck Vectors Gold Miners ETF GDX gained 1.3%. All three ETFs traded higher for the week.
Article and media originally published by Myra S. Saefong and Rachel Koning Beals at marketwatch.com