November 2, 2017
Elon Musk Hints at Tesla Self-Driving Hardware Change, Nvidia Stock Drops
Elon Musk promises to divulge more on Tesla strategy for self-driving hardware 'soon'
Tesla Inc. Chief Executive Elon Musk on Wednesday hinted at a new direction for the company in the hardware it uses for its Autopilot self-driving initiative, which seemed to hurt partner Nvidia Corp.'s shares in late trading.
Tesla TSLA has been installing Nvidia NVDA supercomputers in all its cars in preparation for fully autonomous features, though the company designs its own software. When asked about recent advances in Nvidia's self-driving efforts beyond the hardware Tesla is supplying to customers currently, Musk suggested the hardware may not be strong enough to pass muster with regulators seeking autonomy better than human capabilities, then suggested a change ahead.
"We'll have more to say on the hardware front soon, we're just not ready to say anything now," Musk said on Wednesday's earnings conference call. "But I feel very optimistic on that front."
Nvidia stock dipped immediately after Musk's response, falling as much as 0.7% in late trading. Tesla stock took a bigger hit after third-quarter earnings missed expectations and the company said the Model 3 production ramp would take longer than it previously predicted, falling about 5% in after-hours action.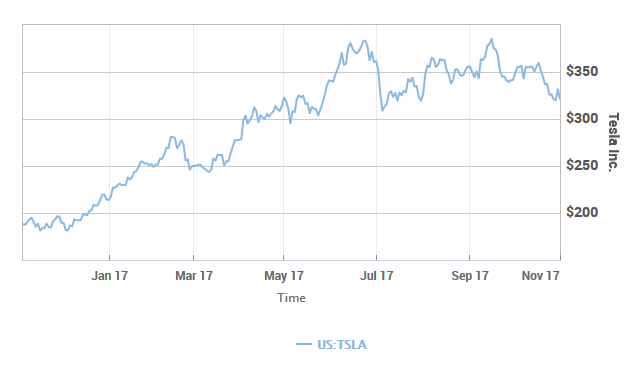 Reports earlier this fall suggested that Tesla was trying to design its own chips under Autopilot executive Jim Keller, a well-known chip designer who previously worked for Apple Inc. AAPL and Advanced Micro Devices Inc. AMD. Interestingly, AMD said in its earnings report last week that it had enjoyed a boost from a patent-licensing deal, but declined to disclose the other company that had licensed its patents, including when asked drectly by MarketWatch.
Tesla began using Nvidia hardware last year after jettisoning its previous partner in self-driving efforts, Mobileye NV, which has since been acquired by Intel Corp. INTC. Mobileye said then that it had concerns Tesla was trying to move too fast with its self-driving program, while Tesla complained that Mobileye was attempting to keep the company from developing its own autonomous systems.
Tesla is selling cars with hardware that Musk says is capable of full autonomy, and promises to turn on the capabilities for customers who pay extra when the technology is available and legal. Musk qualified Wednesday that the current hardware can reach the same level as a human driver, but cautioned that level may not be enough for regulators seeking to determine standards for autonomous driving.
"If it does turn out that a computer upgrade is necessary in order to meet the regulatory requirements in that area, we will replace the computer with something with greater power, which is sort of unplugging the other one, plugging the other one in," Musk said in Wednesday's call. "But we feel confident of the competitiveness of our hardware strategy."
Musk never mentioned Nvidia, though the analyst's question was specifically about the company and its hardware advances. An Nvidia representative declined to comment, and Tesla did not officially comment beyond Musk's statements.
Tesla shares have gained 50% in 2017, while Nvidia has gained 94%. The S&P 500 SPX has gained 15% and the Dow Jones Industrial Average DJIA has gained 18.6%.
Article and media originally published by Jeremy Owens at marketwatch.com.