August 8, 2017
Dow, S&P 500 Back on Track for Records as Banks, Energy, Tech Stocks Climb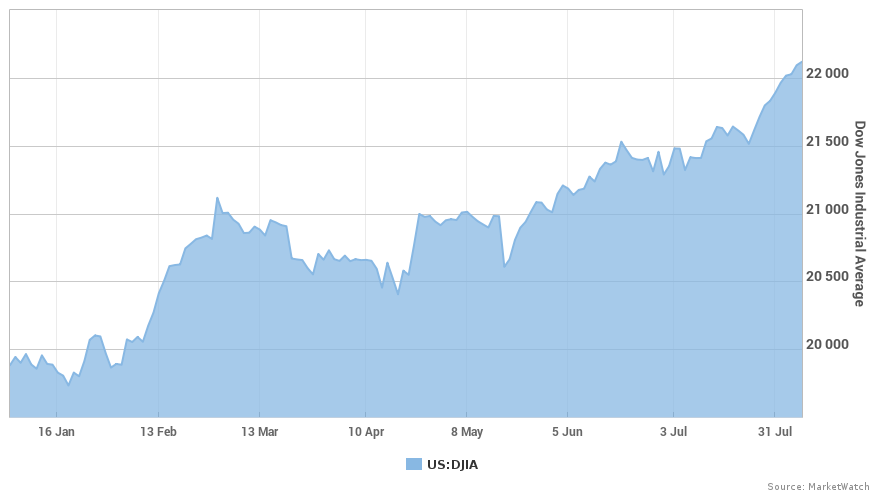 U.S. stocks pivoted modestly higher in up-and-down on Tuesday, putting the Dow and S&P 500 on track to log another round of all-time highs, powered by late-morning gains in financials, energy and technology stocks.
The Dow Jones Industrial Average YMU7 rose 40 points, or 0.2%, at 22,156, while the S&P 500 index ESU7 added 4 points, or 0.2%, to 2,485. The financials sector, up 0.7%, topped the S&P 500's 11 sectors, with 0.6% gain in energy stocks and a 0.2% climb in tech name also contributing to a small rise. The Nasdaq Composite Index NQU7 added 14 points, or 0.2%, at 6,397.
While recent market action has had a modest upside bias, the moves have been muted; by one metric, this is the quietest market since 1965. The S&P 500 hasn't had a session where it moved 0.5%, in either direction, since July 19, an abnormally long time. The CBOE Volatility index VIX recently traded near its all-time lows.
The lack of market movement is a sign that while equities lack the kind of positive catalysts that could deliver solid upside from current levels, investors are also reluctant to retreat from the asset class in a time of improving profits and a strong labor market.
"The backdrop is great: earnings are good, the dollar is weak, and both rates and inflation are low. If that continues, there should continue to be a slog higher," said James Meyer, chief investment officer at Tower Bridge Advisors. "But right now the market is just biding time. There's a little profit-taking, a little rotation, and unless something happens in the dollar or rates, we'll probably stay in this kind of market for a while."
Marriott International Inc. MAR shed 1.7% after the hotelier posted a quarterly earnings beat, but guided profit for the current quarter slightly below analysts' forecasts.
CBS Corp. CBS rose 2.1% after the media giant also reported results late Monday, with revenue topping expectations.
Drugstore operator CVS CVS posted earnings and revenue that beat estimates. Shares fell 1.9%.
Michael Kors Holdings Ltd. KORS soared 20% as profit at the clothing and accessories company's beat views. Ralph Lauren Corp RL jumped about 10% on its own results.
"I don't know that these companies have bright futures, but the results weren't as dismal as many people thought," Meyer said. "If expectations get low enough, you can beat them."
Drugmaker Valeant Pharmaceuticals International Inc. VRX gained 8.5% as its quarterly revenue topped forecasts.
Dairy giant Dean Foods Co. DF plummeted 19% lower after its earnings disappointed, while theme park operator SeaWorld Entertainment Inc.'s SEAS revenue missed views. Shares of SeaWorld lost 6.4%.
Economic news: Sentiment among small-business owners jumped in July, the National Federation of Independent Business said early Tuesday.
Meanwhile, the Labor Department reported on Tuesday that the number of job openings in June vaulted to 6.16 million from 5.7 million in May.
Other markets: Oil futures CLU7  traded 0.3% lower as investors waited for word on whether the Organization of the Petroleum Exporting Countries will back any strong measures to enforce production caps at the cartel's ongoing meeting. Saudi Arabia has made good on its pledge to help rein in a global supply glut, a Reuters report said.
European equities SXXP tilted down Tuesday, as disappointing trade data from Germany and China pulled down on key sectors. Asian markets closed mostly lower.
Article and media originally published by Victor Reklaitis at marketwatch.com