November 29, 2017
Dow Industrials Poised to Climb Closer to 24,000 Milestone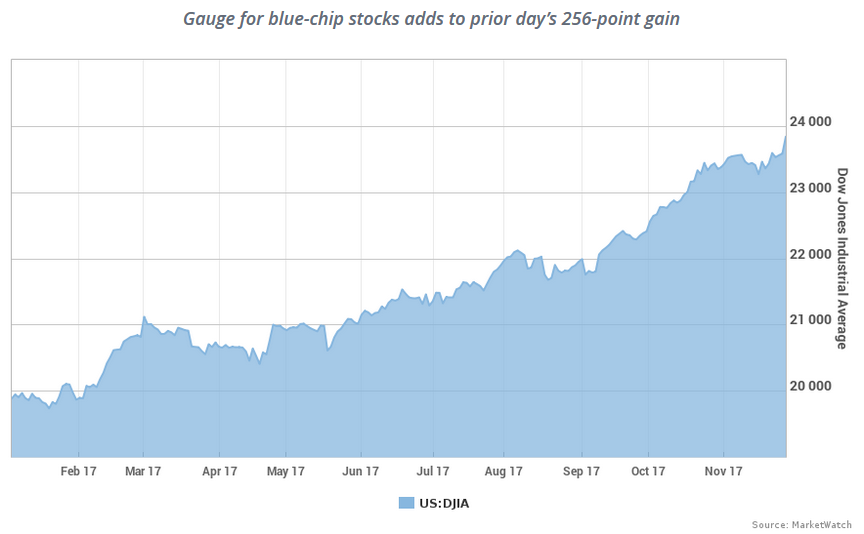 The Dow has gained about 21% this year.
Futures for the Dow industrials pointed to a modest rise at the open Wednesday, putting the blue-chip gauge on track for a fresh record as it approaches the 24,000 mark.
Traders kept an eye out for progress on a U.S. tax overhaul following a step forward during the prior session.
What are the main benchmarks doing?
Dow Jones Industrial Average futures YMZ7 tacked on 69 points, or 0.3%, to 23,880.
S&P 500 futures ESZ7 inched up by less than a point to 2,627, while Nasdaq-100 futures NQZ7 edged lower by 6 points, or 0.1%, to 6,413.
On Tuesday, the Dow DJIA,  S&P SPX, and Nasdaq Composite COMP achieved all-time closing highs, as progress on a Republican tax overhaul appeared to offset worries about a North Korean missile test. The Dow finished sharply higher, rising by 1.1%, or 255.93 points, to end at 23,836.71 — less than below 1% the 24,000 level.
The three equity benchmarks have gained between 17% and 28% for the year, boosted by factors such as an expanding U.S. economy, rising corporate profits, anemic expected returns for other assets and bets that the Trump administration will deliver on tax cuts and other business-friendly policies.
What are strategists saying?
"The major theme right now is nothing other than the tax reform bill and President Trump's efforts to pass it through the Senate," said Konstantinos Anthis, an ADS Securities analyst, in a note.
"Should the Senate approve the bill, it will be considered a major victory for President Trump."
What are other assets doing?
European stocks SXXP mostly advanced, while Asian markets closed mixed. Oil futures CLJ8 fell after an American Petroleum Institute release indicated a surprise increase in U.S. crude supplies.
A key U.S. dollar index DXY was little changed, but the buck was dropping in particular against the British pound GBPUSD as reports signaled progress in the Brexit negotiations. Gold futures GCZ7 traded slightly lower.
What could help drive the market?
Traders will be tracking progress on a U.S. tax overhaul after the Senate Budget Committee on Tuesday voted 12-11 to advance a Republican tax bill. A full Senate vote could be held as early as Thursday.
In economic news, the U.S. economy's pace of growth in the third quarter was raised to 3.3% from 3% under the government's latest revision to gross domestic product. The rise was in line with expectations.
An October reading on pending home sales is slated to arrive at 10 a.m. Eastern, followed at 2 p.m. Eastern by the Federal Reserve's Beige Book, a report that provides anecdotal evidence about U.S. economic conditions.
Departing Fed chief Janet Yellen is scheduled to testify on the economic outlook before a congressional committee at 10 a.m. Eastern.
Also on the Fed front, New York Fed President William Dudley is due to discuss the economy's prospects at New Jersey's Rutgers University at 8:30 a.m. Eastern, and San Francisco Fed President John Williams is slated to speak at 1:50 p.m. Eastern at an annual economic forecast luncheon in Phoenix sponsored by Arizona State University.
Article and media originally publisehd by Victor Reklaitis at marketwatch.com