May 8, 2017
Bubble? Pfft … How about Dow 150,000?
It's not like the global markets needed another excuse to venture deeper into the green, but they appear to have gotten one on Sunday with Emmanuel Macron winning by a landslide in the French presidential election.
No fireworks at the moment, as markets had already seen this win coming for a while. Still, "people and investors are feeling joyful" as the "Frexit genie remains in the bottle," says Naeem Aslam, chief market analyst for London-based forex broker ThinkMarkets. "French voters have clearly expelled the populist surge."
And with all that renewed optimism comes some wild — really wild — speculation from author and noted financial adviser Ric Edelman. When asked where he sees this Trump rally heading from here, Edelman says he sees it lasting. Not for a few weeks. Or months. Or even years. But for decades.
"There's no reason to think that won't continue, and, in fact, exponential technologies make it easier," he explains in an interview. "We're going to see incredible profits in the United States, as well as globally."
So how high can it go? Well, he earns our call of the day honors by reiterating his wildly rosy prediction that the Dow DJIA will hit 100,000 by 2030. "If I'm wrong, it'll be 150,000," he told The Street.
Looks like no steps are being taken toward that lofty target this morning, with markets shrugging, for the most part, after getting an initial lift from the expected news.
Key market gauges
Europe's main stock index SXXP , France's CAC 40 PX1  and the euro EURUSD,  are lower as traders appear to "sell the news" after Macron's win. Futures for the Dow YMM7 and the S&P ESM7  are moderately down, while Asian markets ADOW  moved higher, led by the Nikkei's NIK strong showing. Gold GCM7 is higher, while crude CLM7 has been choppy.
The buzz
Kate Spade KATE  shares are jumping after Coach COH said it's agreed to buy the fashion accessories maker in a deal valued at $2.4 billion.
The dissecting of Berkshire Hathaway's BRK.A  annual meeting will certainly spill over into the week, with topics including Warren Buffett's stance on health care, why he never took a position in Amazon AMZN and how he was wrong about IBM IBM to name just a few. Read our live blog recap for a detailed look at what went down in Omaha.
Speaking of Amazon, is now the time for the stock to be added to the Dow? Here's why shareholders should be careful what they wish for. Also, from Barron's, read about why Amazon's surge in profitability isn't necessarily a good thing.
Snap SNAP will be a hot topic in the coming days. The Snapchat parent faces its first big test in the public market place when it reports first-quarter earnings on Wednesday afternoon. The key question weighing on the minds of investors is Snapchat's daily user growth, which had been pressured in previous quarters.
The chart
Is it time to ditch that sexy Tesla TSLA and hop into General Motors GM and Ford F? Let's not get crazy, but maybe.
Barron's posted a piece over the weekend about how the long-awaited auto slowdown has arrived and why that's good news for the old guys and less so for the new kid.
"Thinking about selling cars excites Wall Street. Selling them? Not so much," says Alex Eule, who explains that GM and Ford don't get enough credit for their successes, while Elon musk perhaps gets too much.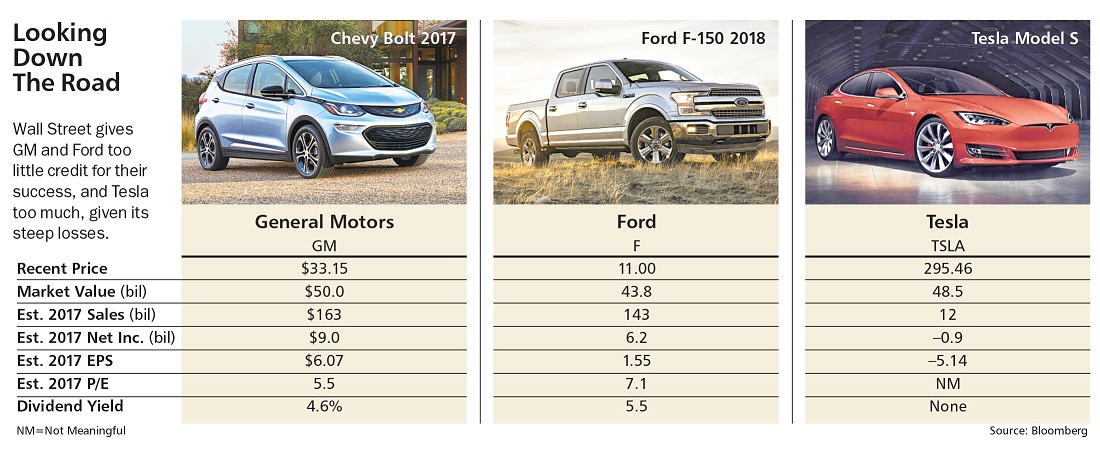 "Tesla is up 45% in the past 12 months, boosted by expectations for the Model 3, set to debut later this year," Eule writes. "Yet, the launch could hurt its stock, which arguably is priced for perfection. Once the Model 3 hits the road, investors could switch from buying the rumor to selling the news."
The stat
This billboard near the L.A. airport grabbed lots of clicks in recent days on Reddit, where coinminercom posted this image to offer some perspective on just how far the price of bitcoin has come.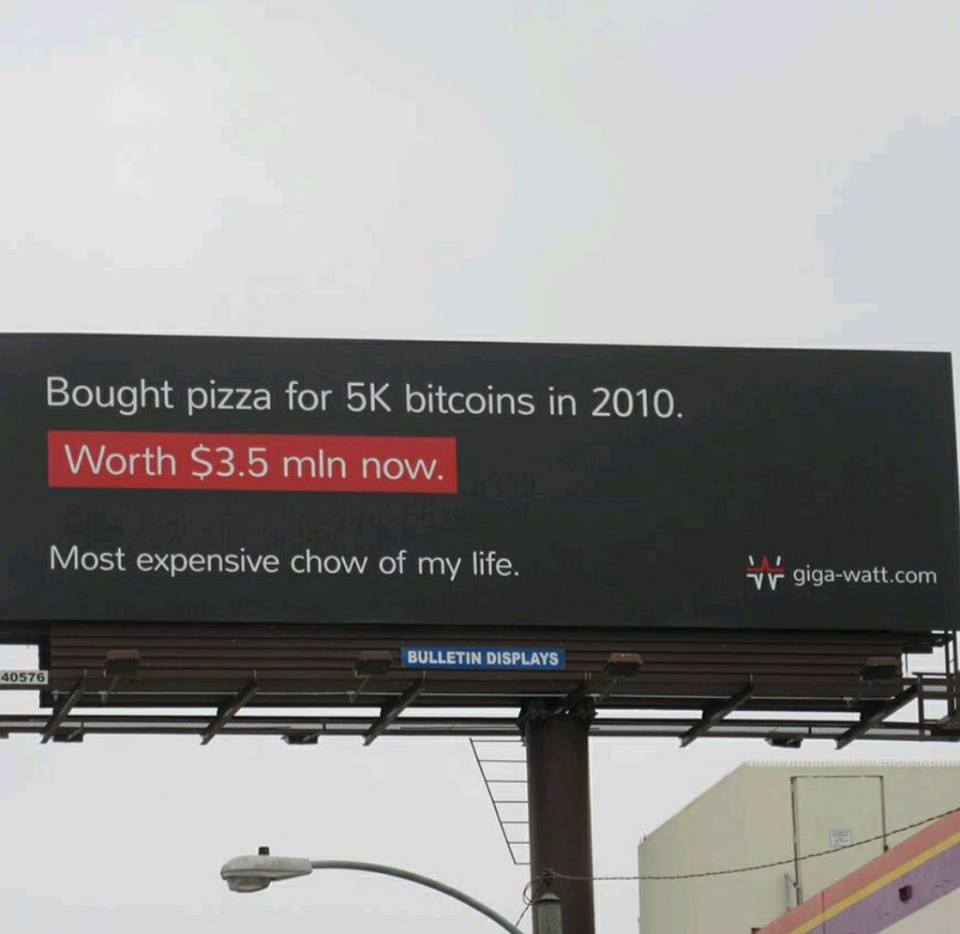 Of course, it's a bit dated. Now that chunk of digital change would be worth more than double that, as bitcoin continues to bust into uncharted territory.
The economy
The only bit of semi-notable economic data on the docket today is the Fed's monthly Labor Market Conditions Index, which hits at 10 a.m. Eastern. At the end of the week, we'll get a look at retail sales and the Consumer Price Index. Other than that, it's looking like a relatively quiet data schedule.
Artilcle and media originally published by Shawn Langlois at marketwatch.com