May 3, 2023 | Issue 24
Why You Must Like Technology Stocks (QQQ)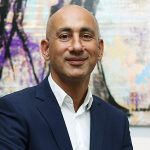 Nikolay Stoykov
Managing Partner at Alaric Securities

Invesco QQQ Trust (QQQ ETF) is an ETF that tracks the performance of the NASDAQ-100 Index. It is one of the world's most popular and actively traded ETFs. As the name of the index suggests, NASDAQ-100 has 100 components. However, the index needs to be better diversified. The top 6 companies have weights in the ETF above 47% of all assets:
| | |
| --- | --- |
| Name  | % |
| MSFT | 12.57% |
| AAPL | 12.34% |
| AMZN | 6.22% |
| NVDA | 5.23% |
| TSLA | 3.86% |
| GOOG | 3.70% |
| GOOGL | 3.60% |
| TOTAL | 47.52% |
"Why would you construct an index that would be so skewed?" is a common question. Well, it started pretty balanced. However, over the last ten years, those companies have grown SO MUCH and started to dominate the index. Let's take a look at their 10-year performance as well as their current P/E ratio, according to Yahoo Finance:
| | | |
| --- | --- | --- |
| Name | 10 Yr Return | Current PE Ratio |
| SPY | 167% | 19.00 |
| QQQ | 365% | 27.00 |
| MSFT | 962% | 32.00 |
| AAPL | 918% | 28.00 |
| AMZN | 698% | N/A |
| NVDA | 8475% | 156.00 |
| TSLA | 7390% | 46.00 |
| GOOG | 435% | 23.00 |
| GOOGL | 430% | 23.00 |
As you can see, QQQ ETF has returned 365% over the last ten years without dividends, while SPY ETF, based on the broader S&P500 Index, has returned only 167% without dividends for the same period. Given that SPY has a dividend yield higher than QQQ, this difference is around 1% a year – hardly anything that comes close to explaining the outperformance. Moreover, both ETFs' current valuations are very close to their historical averages – could it be those companies will stop growing?
While anything is possible, the Top 5-10 companies in NASDAQ-100 Index are some of the VERY best companies in the world! They are not only innovative and immensely profitable enterprises but also voted some of the best companies to work for worldwide. Wherever in the world some of those companies open campuses, invariably, they can attract and retain the best-qualified employees. The current premium of technology stocks over broader indexes is well justified and very much in line with historical averages. The reason why current valuations seem reasonable relative to historical performance is NOT because most rational investors think those companies will face a darker future. Still, those companies' capitalizations are SO HIGH; keeping valuation elevated in a bear market environment is challenging.
One of the most challenging lessons in trading and investing is to cut your losers fast and let your winners ride. And we think QQQ has been such a clear winner – think of the Chicago Bulls in the 1990s! Do you want to bet against Michael Jordan and the Bulls, especially when the odds are not so overwhelming?
The global economy will grow in the next several years. At least, we believe that. One of the best instruments to take advantage of this growth is the QQQ ETF. While the ETF is NOT well diversified, its components are the best companies in the world. Those companies have proven they deliver EXCEPTIONAL returns to their shareholders, and the present valuations are very attractive. That is why you should pay attention to the sector.
Sources:
Disclaimer:
The articles, podcasts and newsletters from Alaric Securities LLC solely represent the authors' views affiliated with the company; they do not represent the perspectives of Alaric Securities OOD or any of its subsidiaries or affiliates. They are provided solely for informative purposes and do not constitute recommendations for or against purchasing or selling any security. digital asset (such as cryptocurrency), or other assets in any account. They are neither research reports nor meant to be the foundation for any investing decisions. Any third-party information given does not represent the views of Alaric Securities OOD or any of its subsidiaries or affiliates. All investments carry risk, including the potential loss of principal and past success does not assure future success.