May 4, 2018
Unemployment Rate Falls to 17-year Low as U.S. Adds 164,000 New Jobs
Hourly wages still not rising rapidly despite ultra-low jobless rate
The numbers: The economy generated a solid 164,000 jobs in April to push the unemployment rate below 4% for the first time since Bill Clinton was president, a sign the surging labor market shows no signs ebbing.
The increase in hiring fell short of the 188,000 forecast of economists polled by MarketWatch, but the shortfall was cushioned by upward revisions that show the U.S. created more jobs in March than originally reported.
The unemployment rate, meanwhile, slipped to 3.9% after holding at 4.1% for six months in a row. Yet the decline owed to a shrinking labor force and fewer people saying they were unemployed instead of an increase in how many people found work.
Despite the ultra-tight jobs market, wages for American workers still aren't rising rapidly. Hourly pay rose 0.1% to $26.84, the government said Friday. The 12-month increase in pay was flat at 2.6% for the third month in a row. The Federal Reserve is likely to view the stable rate of pay as a sign of support for its cautious strategy of raising U.S. interest rates.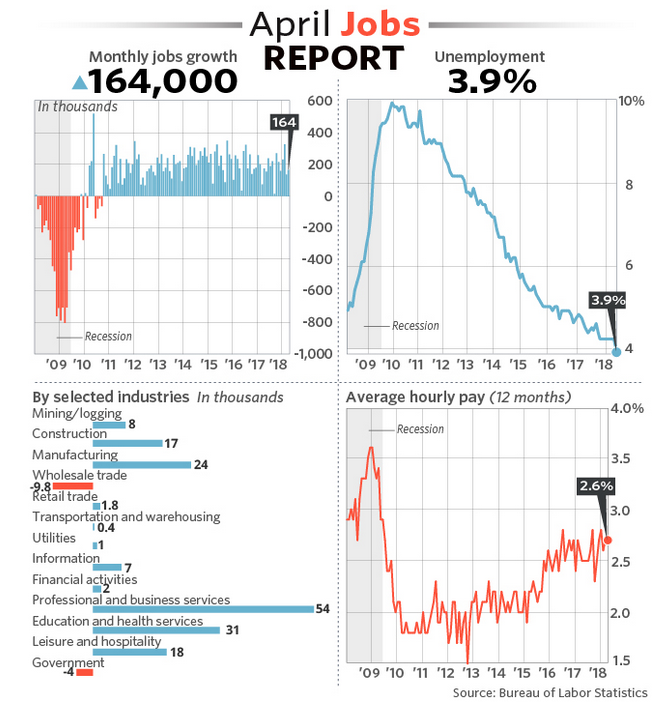 What happened: The increase in new jobs last month was spearheaded by professional businesses. They added 54,000 workers.
Hiring also rose smartly among health-care providers and manufacturers, each of which added 24,000 jobs. Construction firms increased payrolls by 17,000.
Wholesaler and government were the only sectors to shed jobs.
Big picture: After almost nine years of economic expansion, one of the biggest problems companies face is finding skilled workers to fill millions of job openings.
In some cases, firms are hiring people and training them themselves. In other cases they are resorting to more automation. And in still other situations companies try to poach employees from other firms with more lucrative pay and benefits.
The tight labor market is especially evident in what's often called the "real" unemployment rate. The so-called U6 rate includes people who can only find part-time work and those who've gotten so discouraged they recently stopped looking. It fell to 7.8.% in April to drop below 8% for the first time since 2006. Now it's almost back to normal.
Even so, the vast majority of American workers still aren't reaping big rewards from the tightest labor market in almost two decades. Companies continue to find ways to contain costs and many customers simply are unwilling to pay higher prices for goods and services.
That can't continue forever. Either companies will have to pay workers more — or they'll have to increase investment to boost production.
The Fed would prefer to see higher investment since it would be less likely to lead to inflation. But if the cost of labor and materials continue to rise, the central bank will feel pressure to raise the cost of borrowing in the U.S. more aggressively to prevent an outbreak of inflation.
What they are saying?: "The solid April jobs report is further confirmation of the excellent labor market in 2018, even if some of the details weren't as good," said Gus Faucher, chief economist of PNC Financial Services.
Market reaction: The Dow Jones Industrial Average DJIA and Standard & Poor's SPX rose slightly in Friday trades. The 10-year Treasury yield TMUBMUSD10Y fell slightly to 2.94%. The April jobs report did not show any pickup in inflationary pressures that have been worrying investors.
Article and media originally published by Jeffry Bartash at marketwatch.com