We Deliver Incomparable Execution speed, Liquidity, and Outstanding Customer Experience.
True Direct-Market-Access to all exchanges
Low-latency FIX and API sessions
Multiple "mid-point" routes
Professional trading platforms with powerful market scanning tools
Cash Account – only cash transactions
Limited Margin Account (2:1 overnight & 4:1 intraday)
Portfolio Margin Account (see "Customizable Leverage" for details)
Separately Managed Accounts
DVP/DFP Account
Pre-& post-trade allocation
Real-time controls and analysis
Multi-account linking
MiFID II Reporting
Market Abuse Prevention & Reporting
Up to 30:1 Intraday & 6:1 Overnight for Reg T margin accounts.
Up to 40:1 Intraday & 10:1 Overnight for Portfolio Margin accounts.
Powering Professional and Active Traders Worldwide
With an access to global markets through our proprietary platform

HAMMER is an all-in-one professional trading platform that simplifies trading experience and provides all the toolset for comprehensive trading.
Powerful charting and fully customized interface
Candle pattern detection
Depth of market (DOM) trading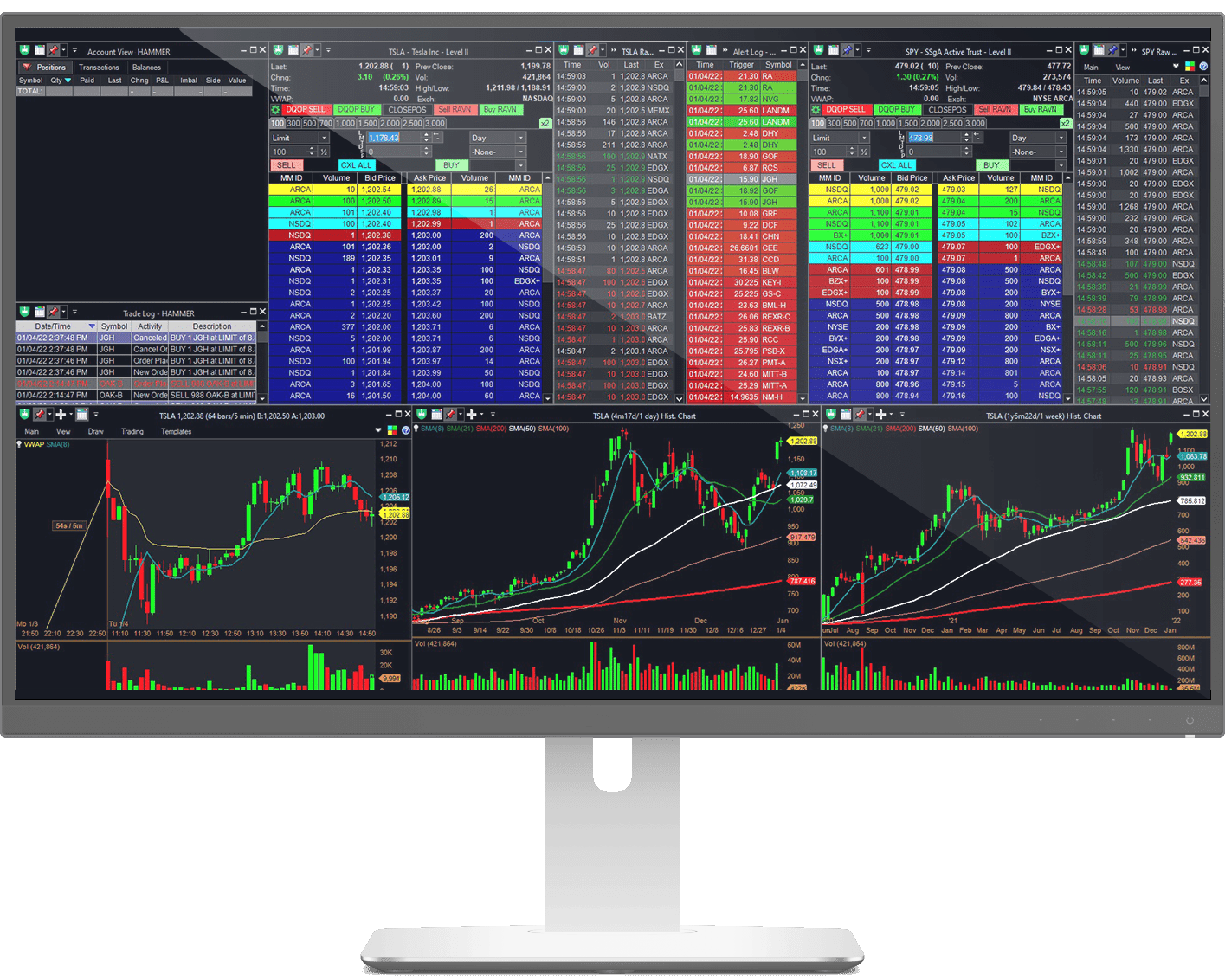 Connect your Alaric account to a third-party platforms
to access tools that suit your specific trading requirements.
Connect Your Own Platform
Whether you are a Hedge Fund, or a Broker Dealer
you can rely on professional-grade connectivity to the markets.
Trading At The Lowest Costs
Get our low-cost, ultra-competitive, volume-tiered prices and commissions.
No "per trade" minimums.
$
0.0035
to as low as
$
0.0010
What our customers say about us
As a day trader, Alaric Securities helps me to stay successful. Letting me route my orders to so many venues definitely gives me an edge.
Thumbs up!
C.A.
Alaric is laser-focused on active traders.
Love the Hammer.
Love the stock borrow.
P.D.
I have been trading since 2010 and I worked with different stock brokers, but when I started with Alaric Securities, I reached my last destination where I am getting all that I need to trade.
Great execution, great support!
Desire Alliance
Deals For Active Traders
"Active Trader" Package, specially designed
for Professional Traders